Lucy Rycoft was surprised how much she enjoyed the series, despite its drawbacks
Rating: PG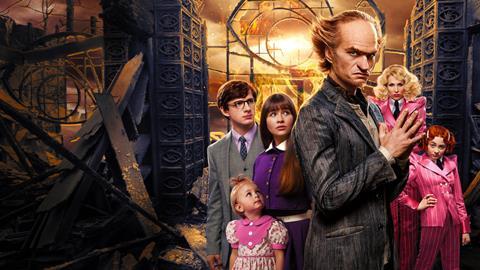 Other connected films/TV series: Lemony Snicket's A Series of Unfortunate Events (film, 2004)
Episode length: 1hr
Genre: Drama/adventure/fantasy
Overview: After losing their parents in a suspicious fire, the Baudelaire children spend their days escaping the clutches of evil distant-relative Count Olaf, who will stop at nothing to get his hands on their fortune.
What you liked:
This show can be aptly summed up by the words of narrator Lemony Snicket at the start of series one: "If you are interested in stories with happy endings, then you would be better off somewhere else. In this story not only is there no happy ending, there is no happy beginning and very few happy things in the middle."
A Series of Unfortunate Events is deliciously dark, full of despair, with hopeful possibilities never quite realised. Before you reach for the remote to opt for something cheerier, you need to know that it is, in every way, absolutely brilliant. What keeps it from becoming purely depressing viewing?
Firstly, the show's visual appeal. Each prop is carefully considered, each costume thoughtfully designed, each backdrop perfectly setting the required ambience for its scene. The whole thing – despite its bleak hopelessness – is never lacking in colour, sparkle or variety.
Secondly, the acting. Each character is perfectly cast, with special mention to Malina Weissman, Louis Hynes and Presley Smith who expertly play the Baudelaire orphans.
Thirdly, the comedy. Yes, there's actual comedy. Lemony Snicket's dry asides keep the whole thing moving along lightly, as do the more obvious slapstick moments of Count Olaf and his crew.
There is suspense a-plenty in every episode: you're rooting for the success of the prodigious Baudelaire children, while also knowing that your hopes are likely to be dashed. Both my children and us enjoyed this series: rare praise indeed.
What you didn't like:
Virtually nothing! OK, so I'm a sucker for a happy ending, so a few more victories wouldn't have gone amiss, but given my predilection for sugary sweet plots, it's saying something that I enjoyed this so much.
The episodes are an hour long, so this is worth bearing in mind. It's not a quick option when there's 10 minutes left till tea, but with a little forward planning, this can be a show which the whole family can enjoy.
Thoughts for parents:
If I haven't already made it clear, this is a pretty dark comedy-drama. I would say it'd be best understood by children aged 8 and over. But even with this guideline, I'd add a proviso that it might not work for sensitive children, especially those who have articulated a fear of their parents' death. Some of the exploration of orphanhood might touch on a nerve for children who are bereaved, adopted, fostered or in abusive/neglectful home environments. For this reason, I wouldn't show it in a group setting where children are likely to have a range of backgrounds.
The series could raise interesting questions with your children, such as "Where is God in the lives of the Baudelaire children?" (Judge Strauss, for example, is one character who treats the children with kindness. You could also argue that God has blessed the Baudelaires with talents and intellect to defy the evil plots of Count Olaf.) You could ask your children why they think God allows suffering in the world, or how orphaned children are provided for in our culture.
Star rating: 4 stars

Lucy Rycroft is digital marketing officer for Parenting for Faith. She is a mum of four children aged 7-12, wife of Al, and founder of The Hope-Filled Family. She's the author of Redeeming Advent (for adults) and Deborah and Jael (for kids). In her free time, she enjoys (besides great Netflix shows) cooking for others, good conversation, board games, walks, reading and making music.