Despite some misgivings, Dawn Savidge believes you could find plenty of conversation starters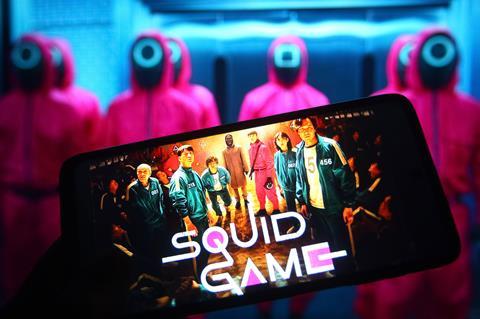 Rating: 15
Other connected films/TV series: Similar to Battle Royle
Running time, or each episode length: 1 hour
Genre: Korean TV Thriller
Overview. 456 people are invited by a stranger to play a series of children's games in order to win a high cash stake; however there are deadly consequences.
What you liked:
This is definitely a suspense thriller with all the usual plot twists you would expect from such a programme. I liked the way that it provoked conversation amongst my friends and family and had the Christian world really delving into issues that the world face today, but often we chose to hide our face to. I also liked that there was not much bad language.
What you didn't like:
There is an awful lot of violence; some of it unnecessary e.g. showing heads split open after falls. The sets are used as a partial comfort to negate the violent scenes, using soothing pastel colours to allude that the violence isn't as bad as they have portrayed.
Thoughts for parents:
You have probably already read a lot about Squid Game and may have already watched it yourself. It is a very violent but also thought-provoking piece of television. The contestants are invited to take part in a series of children's games. After the first game, it is obvious that in order to win, they might die. They are given the chance to stop the game and return to their normal lives, which they all do. However, the pull of untold riches and a life transformed is too much and they return to the game fully knowing the consequences of doing so. This is a story about the struggle of debt, the lure of riches and the unfair dynamic of power and control. I have watched it with my two sons aged 16 and 18 and we did talk a lot. We talked about the unfairness of it. The way that society discards those people with addiction or crippling family trauma. We talked about the unnecessary showing of violence on a mainstream television programme. We talked about how society is build and where God is in it all. We talked about the violence that we read about in the Bible, particularly in the Old Testament. And we lamented about the unfairness that money, power and control has in the world. This might be a hard watch for you, so look after yourself first. I know my boys and knew that if we watched it together and talked about it immediately afterwards they would be okay. It helped them to have 'God conversations' with their friends, most of whom were already watching it. But it is not a programme for the faint-hearted. Do not feel pressured to watch it, especially if it might trigger a trauma response.
Star rating: 3 star
Dawn Savidge has been a single parent for 15 years and blogs at www.soloparentfaithadventure.com