Parenting for Faith's Lucy Rycroft tackles a topic all too common in the parents she works with.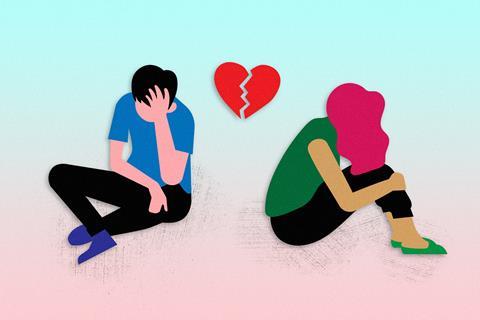 When the months and years we've spent trying to make our marriage work look set to resolve in divorce, we can feel a huge range of different emotions.
We might feel a sense of failure, like we've not been able to be the 'good Christian parent' we wanted to be for our children. We might feel anxious about the future and how our divorce will impact our children's faith (and our own). We might feel unsure as to the best way to navigate church as a single-parent family. (To read of one woman's experience of this, go here.)
Is it possible not only to find God in such a challenging time, but to help our children find Him too? I believe so – and here's why.
Divorce is less taboo than you think
Sometimes it can feel as if everyone in our church is happily married and that no one gets divorced.
But this is far from the truth: churches are simply not always very good at talking about the hard bits of marriage. (Here are some ways churches can better support families through separation and divorce.)
The 'happily married' couple we see in the pews may actually be hanging on by a thread. The wonderfully wise couple who have been married 50 years might have had a rocky patch decades ago. That godly single man may have gone through a divorce when he was younger. We just never know.
So be brave: open up to trusted Christian friends. You might be surprised by their empathy, their own experience of a difficult marriage, their loyalty and commitment to journey with you as you navigate this new chapter.
We're designed to live in community, so gather yours around you – for your sake but also for your children. It might be hard at first to be so vulnerable, but if your priority is that your family thrives through this difficult time, then it's going to be important to have the support of others.
Does your child have a favourite children's/youth leader at church who might take them for hot chocolate regularly and mentor them? Is there another trustworthy Christian adult who might pray with and for your child, and be a listening ear for them?
Our video on prayer ministry for children would be a great resource for anyone keen to support your child through this season. It is freely available as part of the Parenting for Faith course.
Divorce isn't great – but God is still present in it
All of us want to give our children the best possible childhood – and, as such, might feel deeply grieved when part of that perfect childhood doesn't go to plan.
It's OK to lament for our broken marriage. It's OK for our children to do that too – so give them space to do so (or, if you can't, find a trusted Christian adult friend who can).
Depending on their age and the circumstances of the divorce, your child may feel angry. They may have big questions or doubts. Encourage them to bring these feelings to God.
Your job isn't to paper over the cracks while you navigate this with your child, but to help them find God in it. Frame what is happening in a way which is appropriate to your child and show them who God is when we're suffering.
For example, you could say something like, "Your dad and I are struggling to talk with each other nicely right now, so I'm telling my angry words to God because I know He's always listening to me."
Or, "I've felt really sad since your mum left, so I'm trying to cling on to God's promises in the Bible that he's close to those who are broken-hearted".
Faith often grows through adversity. Hard as it may be to believe this now, perhaps your divorce will one day form part of your child's testimony of how they came to trust Jesus as their faithful, unchanging Saviour.
Divorce is not the end of your family's journey with God
Perhaps you feel a sense of disappointment that your dream of family life has not turned out as you wished. My colleague Becky wrote about how she felt when her marriage ended:
"In my head I had constructed this perfect world I was going to create for my family. Mum and dad. Security, peace, joy, encouragement, everything my multiple children would need to grow up happy and well. I had planned it, prepared for it, done all I could to make it happen – but had failed. My daughter and I were homeless and penniless and I had lost control of our lives. I didn't feel worthy to parent her, let alone parent her for faith. So I grieved."
(Full article here.)
But the God we read about in the Bible is full of compassion and love. He is a God who doesn't begrudgingly forgive us, but goes the whole way, even sacrificing his only son to achieve this for us. Our marriage may not have gone the way we'd imagined – but God is still God, and he still has a plan for you and your family.
Children of divorced parents do not have to grow up insecure or disadvantaged. They can have perfect peace and stability – not because they have a perfect home life (spoiler alert: this doesn't exist), but because God is perfect. He is our anchor in the storm (Heb 6:19), our peace which surpasses all understanding (Phil 4:6).
Divorce might signal the end of your marriage, but it is not the end of your family's faith journey. This takes a lifetime – and it's not over yet! So be prepared to meet your child at the point they're connecting with God.
If they're open to it, keep reading the Bible and praying together, in whichever way this works for you. Perhaps your child wants to focus on stories of families who went through difficult seasons (try Sarah and Hagar, or Jacob, Rachel and Leah) so they can see how God will be with them too. Perhaps they simply want things to be as normal as possible, so you can just continue with what you were reading anyway.
If they're not open to this, then you can still keep framing what is happening in the light of who God is. You can keep creating windows into how you're feeling, or show your children other families you know who have been through divorce and survived. The article When your family breaks down gives lots more suggestions.
Whether or not your child appears to be drawing closer to or further away from God right now, remember it's not the end of their story with him.
The Parenting for Faith podcast is a vibrant weekly show which covers a wide range of parenting issues from a faith perspective. In one episode, we looked at how to parent our children well through separation and divorce, and in another episode we covered dating as a single parent. Do give them a listen.
And be encouraged – God's not finished with your family yet.

Lucy Rycroft is digital marketing officer for Parenting for Faith. She is a mum of four children aged 7-12, wife of Al, and founder of The Hope-Filled Family. She's the author of Redeeming Advent (for adults) and Deborah and Jael (for kids). In her free time, she enjoys (besides great Netflix shows) cooking for others, good conversation, board games, walks, reading and making music.
View full Profile