Hannah Bowen is a student at Nazarene Theological College, based in south Manchester, studying for a BA in Theology (youth and community). She gives us a 'typical' week from her summer term 2022.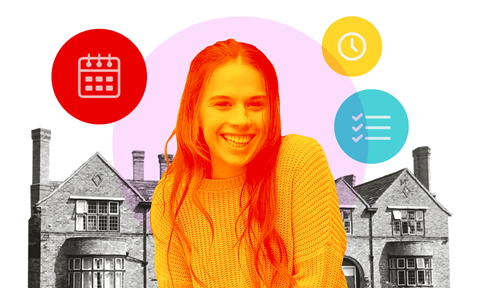 MONDAY
The college has around 100 students and I live on college campus in a block with around 20 other students, There are 20 rooms and a shared common room and kitchen. The chaplain, his wife and their child also live on site, and in the same kind of block as us.
It's a beautiful place to study: I feel like the main building could be like a National Trust house. You can walk down the back lawn, and it feels like you're in the middle of nowhere. There's a river at the bottom that is very, very nice.
I start the day with a few other fellow students eating breakfast together before the formal start of the College day starts with morning prayer. We each take turns to lead it which means we end up with lots of different styles. I have a Church of England background, and there are also Baptists, Methodists, Catholics, Orthodox Christians and of course those from a Nazarene background.
The first lecture this semester is a class called 'Power and anti-oppressive practice'. It includes lots of roleplay and learning how to operate in a way that's not only inclusive, but actively anti-oppressive. We are looking at the privilege we have, but don't realise we have. I'm a white, middle-class Christian, and may one day be working with people very different from that. Members from various kinds of minority groups share their experience. For example, we had talks from people with a disability, and someone with an LGBTQ background.
My next class is called 'Understanding people' which includes sociology, psychology and the broad areas which influence how you are a youth minister.
In the evenings there is the normal chaos of community living with 20 others using the kitchen and communal area. I sometimes do a Zumba class.
TUESDAY
We start the day with a chapel service. Lecturers take turns to run it.
We also have what they call pastoral care groups which are a mixture of a cross section of the college: staff, students, masters students.
In mine, I am the only person under 30. It includes someone from South Africa, and one guy who used to be a Mormon.
I do a placement in the evening with an Eden team on an estate in the south of Manchester. (Eden teams come from The Message Trust and aim to see Christians 'incarnated' into a particular neighbourhood.)
It's a real privilege to be able to do that, even though I'm living at college. I do a mix of detached youth work, including walking around the estate in beautiful bright green hoodies(!). We chat, make connections and young people often ask us: "What are you doing here?"
On a few occasions we are able to pray for them, which is a real privilege.
The Eden team works out of a Baptist church, so on a Tuesday night, we would run sessions for sixth form aged kids (Years 12 and 13).
Many of them are doing vocational courses in the local college and not many are from church backgrounds, but there is a real openness, which is gorgeous.
WEDNESDAY
This semester, Wednesday is when I have our theology course, looking at the theology of Christ, which I found really, really interesting. I have done bits before, including time with YWAM. This course really opened my eyes to the variety of beliefs, and the variety of theology.
I hadn't appreciated how much the practical side of youth ministry is ultimately affected by what we believe about theology and Jesus especially.
There are six of us in that class with one lecturer, which is amazing, because you can get so much more of his knowledge and wisdom.
I have a small group with my church (Revelation Church) on a Wednesday evening which includes students from the University of Manchester. Although our courses are accredited by University of Manchester, we are obviously quite detached from it.
THURSDAY
This is my main ministry day, where I'm with Eden for the entire day.
This includes time on the estate (Moss Side) and meeting in a secondary school where most of the kids on the estate go.It is an interesting dynamic when you're working in a completely secular school.
There's a Christian lunch club, and we go in and we do talk about what Christians believe. It's a very careful balance – we're not forcing anything on anyone and we walk that line. Historically the area is predominantly white working-class British. But in the last year we have had refugees from Hong Kong, Afghanistan and Ukraine.
I have a line manager at Eden, who does weekly catch-ups, checking on how things are going, what I've learned and how that's affecting me. We have a Key Stage 3 drop-in, which is fairly small, maybe 15 or so kids coming into the church after school. There are quite high levels of additional needs (kids with autism or ADHD or just home life's a bit crazy).
And then in the evening, I may do some more detached work: going out onto the estate or running a group for older kids. This term there has has been a lot about relationships, sex and porn and they are amazingly open to talk.
FRIDAY
This is a study day. The college has library and a beautiful conservatory where it feels like you're in the middle of nowhere, because it looks out on fields and grass.
My course is based around essays and reports which are written and submitted, starting at around 1,000 words and then progressively longer throughout the course until the dissertation at the end.
SATURDAY
I may travel to the Peak District or go ice skating or into Manchester shopping, but in truth I may sleep in till noon because I am so exhausted by the week!
SUNDAY
I attend my church and typically a group of us go for a pub lunch afterwards. It's a good day to relax and get ready for another full week.