Keeping children and young people entertained with tech may feel like a cop out – but now we're in isolation, it's only natural that we will be relying on our TVs, smartphones and gaming consoles for entertainment.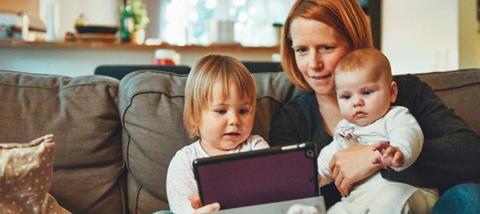 But what kind of media should our little ones be consuming? And how do we ensure that our young people are being fed intellectually and spiritually?
We've compiled a working list of Christian media – from YouTube channels to games – for youth and children to get stuck into to pass the time indoors.
Forget Netflix! It's all about Christian streaming services
Netflix does have a child-friendly section, we know. But if you're looking to help little ones keep their eyes fixed on the cross during this tricky time, we've got some alternatives.
RightNow Media is a streaming service just for Bible related content. The phone app allows you to view what's on offer, but you'll need to check out the website to access the hundreds of episodes from kid's entertainment franchises like Veggie Tales, Bibleman, Adventures in Odyssey and Boz. While it's not available for individuals, it's worth asking your church to sign up so that all parents can benefit.
To pay as you go and only for the films you want to watch, check out Christian Cinema. It has a huge library of movies on demand, which can be streamed on most devices, even Apple TV, Roku and Chromecast. It even has the newly-released film The Pilgrim's Progress.
PureFlix offers a wide variety of movies, TV shows and documentaries that are Christian or family friendly. There's content for children of all ages, including plenty of family movies to pass the time.
And FaithLifeTV offers a 14-day free trial for parents to test the waters, the perfect amount of time to keep your family in isolation without having to pay out a huge fee for the luxury of a whole host of kid's TV content.
Read and study the Bible using tech
We don't necessarily need to use books to get stuck into the Bible. For children, it may be useful to switch it up by downloading an app to read and study scripture.
The Bible App for Kids – created by the same folks as the YouVersion Bible app – is the most popular Bible app for kids. Available for both Android and iOS, the app is completely free and offers illustrations for passages and interactive games for children ages four and older. Their website includes video explainers for each book of the Bible, free printable workbooks and colouring sheets and resource guides to help parents make the most of key passages.
Older children may prefer the YouVersion Bible App, also available on both Android and iOS. It's ideal for young people who may find reading boring thanks to the helpful audio feature, which allows for listening aloud.
For those with twiddling thumbs, the NIV Adventure Bible App is helpful to get children memorising key verses, with games including a verse scramble, requiring children to put them back in the correct order. You can even record your own voice reading your favourite Bible verse.
The Superbook Bible App uses animations as its core resource and for most verses there is an attached game, activity, quiz or video for curious minds to delve deeper into the Word.
Check out kid-friendly YouTube channels
We all know that children and young people love watching YouTube videos, but we need to make sure we're directing them to the right place for safe, spiritual and educational content.
While it may be more accessible for children primary school age and older, The Bible Project channel is a nonprofit animation studio that produces animated videos about the Bible. Some videos explain whole books in a matter of minutes, others look more in depth at scripture, and there are videos explaining themes like Sabbath and justice. Their accompanying website has posters of the animated videos free to print off.
The Beginners Bible is an online series based on the children's Bible of the same name and is ideal for primary-age kids. It's nostalgic-looking animations run through key Bible stories, while also providing karaoke tracks for fun scripture-based songs.
For young people that love their music and want to discover new sounds, The Good Christian Music Blog showcases great music of all genres written by followers of Christ. From live recordings to remixes, there's a bit of everything on there – a bit of light relief from playing the same kids worship song over and over again!
Vloggers are popular with young minds, so for more personal vlog-style videos check out film-maker Joseph the Dreamer, and daily vloggers Nia Cerise and Joel Harris UK. The Way, a channel dedicated to sharing and talking about faith, also features chit-chat style videos for young people.
Try apps and games to pass the time
App-based games for handheld devices can give parents a much-needed bit of me-time by providing a welcome, but educational, distraction.
Guardians of Ancora is a Bible based platform game by Scripture Union aimed at primary school children, though it's also very playable for teenagers, and is available for iOS and Android devices. It involves running across rooftops and ship masts to encounter stories about Jesus, which helps to illuminate the spire at the centre of Ancora.
The Little Worship Company App includes games, stories, prayers, Bible studies, arts and crafts and worship songs centered around three characters, a family known as 'The Looyahs', for younger children up to the age of seven.
For more top games month in, month out, check out the GameBoy column of YCW magazine, which subscribers can view on our website. Don't have a subscription? Don't panic. Set up a subscription to our magazine online now by following this link or get yourself a free copy of the magazine to see if it's something you'd be interested in subscribing to in the future.