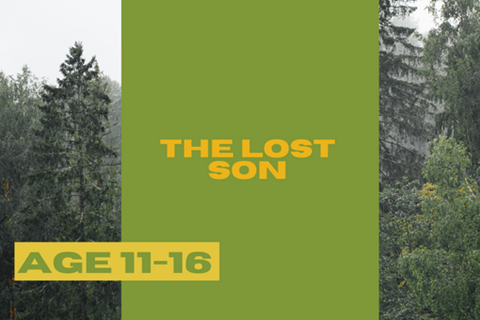 Subscribers only: Download as a PDF here.
BIBLE PASSAGE: Luke 15:11-32
BACKGROUND: The only way the son would have his inheritance was if the dad was dead. When the son asked for the money he was controversially wishing that his father was deceased. The father running to the son and embracing him would also have been an alien sight. Jesus was making a strong point and giving a clear message of how much God loves us.
GATHERING TIME
Welcome the group to the session and share out any refreshments you have brought.
Catch up with how the young people are and how their week has gone. Ask the group if they have messed up in any way. They can answer in their heads if they wish.
INTRO ACTIVITY
You will need: a comedy confession of your own (optional)
Explain that you are going to 'confess' to your group something you have done to see if they are willing to forgive you. Alternative- ly, you could use this confession:
One lunchtime at sixth-form college, a bored teenager bought a Cornish pasty and a can of Coke for his lunch. For no good reason and without knowing why,
the sixth former stuffed the Cornish pasty into the can of Coke until it was completely submerged inside. On walking back to the social area, a fellow sixth-former asked if she could have a sip of Coke as she was very thirsty. The guy mentioned the Cornish pasty to his friend but the girl didn't believe him. She took a very, very long drink before spitting it all back out.
Ask the group if they would forgive the sixth-form lad who stuffed an innocent Cornish pasty inside a can of coke and then gave it to his friend to drink.
BIBLE EXPLORATION
You will need: actors to perform the script below
If you have time before the session, ask your volunteers to rehearse this dramatic reading. If time allows, you could do the rehearsals as part of the session, exploring emotions and motivations as you rehearse:
N1: Jesus said:
N2: There was a man who had two sons.
N1: The younger son said to his father:
Younger son: Father, give me my share of the estate.
N2: So he divided his property between them.
N1: Not long after that the younger son got together all he had.
N2: And set off for a distant country, where he squandered his wealth on wild living.
N1: After he had spent everything there was a severe famine in that country.
N2: And he began to be in need, so he went and hired himself out to a pig farmer.
N1: He longed to fill his stomach with the pods the pigs were eating.
N2: But no one gave him anything.
N1: When he came to his senses, he said:
Younger son: So many of my father's hired servants have food to spare, and here I am starving to death! I will go back to my father and say to him: "Father, I have sinned against heaven and against you. I am no longer worthy to be called your son. Make me like one of your hired servants."
N2: So he got up and went to his father. N1: But while he was still a long way off… N2: His father saw him and was filled
with compassion for him.
N1: He ran to his son.
N2: And threw his arms around him.
N1: And kissed him.
N2: The son said to him:
Younger son: Father, I have sinned against heaven and against you. I am no longer worthy to be called your son.
N1: But the father said to his servants:
Father: Quick! Bring the best robe and put it on him. Put a ring on his finger and sandals on his feet. Bring the fattened calf and kill it. Let's have a feast and celebrate, for this son of mine was lost and now is found.
N2: So they began to celebrate.
N1: Meanwhile, the older son was in the field.
N2: When he came near the house he heard music and dancing.
N1: So he called one of the servants. N2: And asked him what was going on. Servant: Your brother has come home. N1: The servant replied.
Servant: And your father has killed the fattened calf because he has him back safe and sound.
N2: The older brother became angry.
N1: And refused to go in.
N2: So his father went out and pleaded with him.
N1: But he answered his father:
Older brother: Look! All these years I've been slaving away for you and never disobeyed your orders. Yet you never even gave me a young goat so I could celebrate with my friends. But when this son of yours, who has squandered your property with prostitutes, comes home you kill the fattened calf for him.
Father: My son!
N2: The father said.
Father: You are always with me, and everything I have is yours. But we had to celebrate and be glad, because this brother of yours was dead and he is alive again; he was lost and is found.
CHATTING TOGETHER
Discuss the story using these questions:
How do you think the younger son felt when his dad forgave him?
Why did the older brother find it hard to forgive?
What is this parable really about?
CREATIVE RESPONSE
You will need: a large sheet of paper; a marker pen; a spoken word piece from youthandchildren.work/resources
Draw a road on a large piece of paper and explain that this parable is a universal story. It is our story. Ask the group:
Are you still at home, slaving away for God, not understanding how much he loves us and trying to earn his favour?
Are you someone far away from God?
Are you on your way home?
Read out the spoken word poem, which is a modernised version of someone lost turning to find Jesus, who is always there for us.
PRAYER
Give your young people the space to pray and thank God for his generous love and grace.
Supporting documents
Click link to download and view these files