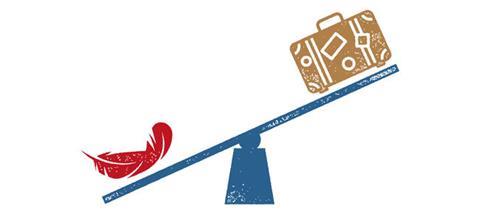 The whole story
Genesis 25 to 35: To read if you have time to take it all in.
The key episode
Genesis 31:22-55: To read if you only have time for the main narrative.
The tale in a nutshell
Genesis 31:31-32: Jacob answered Laban, 'I was afraid, because I thought you would take your daughters away from me by force. But if you find anyone who has your gods, that person shall not live. In the presence of our relatives, see for yourself whether there is anything of yours here with me; and if so, take it.' Now Jacob did not know that Rachel had stolen the gods."
Here, we return to the story of Jacob, focusing on one of the slightly obscure parts (for a more general overview of the Jacob narrative, check out the July issue of Premier Youth and Children's Work). From Genesis 31:22 onwards, we read the story of the escape. Jacob has worked for Laban for many years. He arrived with nothing. God has blessed him. But Laban is growing increasingly envious of Jacob's prosperity and Jacob knows a clash is imminent. So Jacob gathers his large herds, his men, his wives and his children, and departs. But, and here it comes, Rachel has taken her father's household gods.
It's just a small statue. Nothing more than a good-luck charm. Why Rachel took it is unclear, but she did. She took something on the journey that she shouldn't have and Jacob is not aware of it.
It's the worst sort of baggage. The kind we are not aware of. In fact, we soon get so used to it that we no longer realise we are carrying this extra weight. Our journey becomes sluggish. The skip has gone from our step. We don't smile as much as we used to. And we're not aware of any of it. It's become an embedded part of us.
Watch what happens. Laban pursues Jacob and catches up with him. It could have gone very wrong at that point, but God has had a conversation with Laban and has been very persuasive. But a conversation takes place and Jacob tells Laban: "If you find your household gods, the person who took them will be put to death." He searches and he comes to Rachel's tent. And we hit verse 35: "Rachel said to her father, 'Don't be angry, my lord, that I cannot stand up in your presence; I'm having my period.' So he searched but could not find the household gods."
One female gym teacher commented when I preached on this recently that it would seem that teenage girls have been using that same excuse for thousands of years! But more seriously, look what happened. Rachel sinned (she lied to her father) to cover up her sin (she stole the gods). She sinned to cover her sin.
Carrying baggage on the journey has two other implications.
Coloured vision
I was 22 when I took my first job as a children's pastor. As part of my ongoing training, my senior minister sent me to do a course on safeguarding (it was called child protection in those days). It was being run by one of the NSPCC staff, a woman who dripped wisdom and understanding. She had been dealing with some of the most difficult situations for many years, but rather than making her bitter and cynical, it had made her profoundly wise. She was a joy to listen to and learn from. What became apparent early that morning was that I was the only male in the room and everyone else was at least three decades older and they were all social workers. The start of the day consisted of introductions. Several ladies spoke in turn their comments:
"I was in an abusive relationship; my husband was violent to me. When I eventually got out of that relationship I wanted to help others in similar situations so I became a social worker."
"Baggage stops you seeing objectively"
"One of my children was abused by a relative. I became a social worker to make sure it didn't happen to others."
"I was abused as a girl and…"
And so it went on. It seemed they had taken up a vocation in order to protect. I couldn't help thinking how noble it was. It was certainly a better reason than my contribution: "I'm here because my senior minister said I had to come!"
Just before lunch we were presented with a case study. A 7-year-old boy has become troubled at school. He used to be well behaved but is now disruptive. His language is inappropriate. He has wet himself a few times. What could be going on? And so over lunch we thought about it and then afterwards the ideas were presented. The lady who had been abused thought the boy was being abused. The lady from the situation of domestic violence felt the boy was witnessing violence. The lady whose child was abused by a relative suggested the boy was being abused by a relative.
I struggled to understand how they couldn't see it. It was difficult to get my 22-year-old head around the way their experiences had so coloured their perception. It was the lesson a wise NSPCC champion was going to make very clear to them.
Baggage stops you seeing objectively. It makes for ineffective social workers, and it also makes for ineffective children's pastors.
Aching reality
When I was 19, I'd been at theological college in Doncaster for a term and had come home for the holidays. Like all good Welsh Valley boys, I had brought all my washing with me for Mam to sort out! At the end of the holidays, my clothes were packed nicely in a suitcase and I was ready for the journey back to college. But, as an afterthought, recognising that college puddings were making me a little larger than I should be, I decided to take some weight training equipment back with me: a bag full of weights and a 2-metre metal bar to put them on.
This may all have been fine, except I didn't drive and was making the journey by public transport. I set off at 10am. I caught a bus to a place called Maesteg, swapped buses and journeyed to Bridgend. From there, I had a ten-minute walk to the train station and then further changes at Cardiff Central, Bristol Parkway and Birmingham New Street. It was 9pm when I eventually reached Doncaster, where I got onto a bus for a place called Bawtry. By then, I was only 4 miles away. But my shoulder was so sore after carrying the pole that there was blood coming through my T-shirt. My arms were stretching to the ground and my other shoulder holding the bag of weights was beginning to blister. To add to the difficulty, when I asked when the next bus was coming, a local advised me that it would be here "the day after tomorrow duck!" So I began to walk, hitchhiking as I went. But I guess it was the presence of the 2-metre bar, because as the cars got closer they actually sped up as they passed me.
And then it happened. Two miles short of the college. I couldn't walk another step. Both shoulders bleeding. Arms aching. I could not take another step. So a decision had to be made. And two miles from college, in a rural part of Nottinghamshire, I placed all my possessions behind a tree and walked the final stretch to college.
"You are too precious to carry these things"
The simple reality is, I had got really close. But while I was carrying this weight I was never going to get there. And therein is the point. Some of us have picked up baggage and it comes in various forms, often through hurt or some other negative experience, and if we insist on carrying it with us on our journey we may not make it. That God-given destiny written all over us may never happen in its fullness. It's been nearly three decades since these events and it really is remarkable how many times I've had to relearn the lesson.
Let it go
So, it's time to drop the baggage. If it's a sin, we confess it and ask God's forgiveness. If it's a hurt, we forgive and we let it go. You are too precious to carry these things. You are a work of art, created for good works in Christ, and the lives of countless children and young people will be transformed because of you. But you'll need to learn to travel light; not taking anything on this journey that you shouldn't.
It's so easy to pick up things we shouldn't. While we may not be carrying something as obvious as a 'household god', the things that are less visible can be more damaging. If we don't let go, we sin to cover sin. We lose perspective and no longer see clearly. We are in danger of jeopardising our journey with God. We need to do a regular and ruthless clean out of our heart. After all, it is our wellspring of life (Proverbs 4:23). Our goal should be to travel with a heart free of baggage and a sweet spirit. I promise you it is the key to longevity in ministry - travel light.
TAKEAWAY
Find some space with a pen and paper and ask the Holy Sprit to reveal things you may be carrying that you shouldn't be. When you are sure you have scribbled down everything, give it to God and ask him to help you deal with the list. It may involve forgiveness, it may involve a few tricky conversations.
PRAYER
Father God, you have called me to travel light, to live with my heart free of baggage and with my spirit sweet. I know this will take courageous decisions from me and a willingness to reflect on my personal walk with you. But I also know that although I must travel light, I do not have to journey alone. Walk with me, Father. In Jesus' name, Amen.