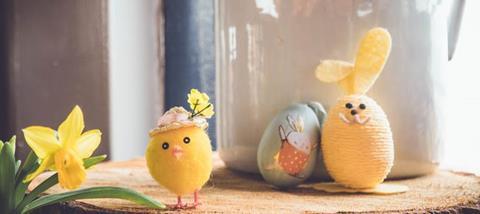 As Victoria Beech has explored in her 'Forming faith rituals' articles in Premier Youth and Children's Work, you can use play to explore Bible stories, making things unstructured so that children can interact with the story and characters however they like. Simply tell the story from a children's Bible storybook and then let the children play with toys such as Lego gardens and Playmobil people, or go outside to play.
Try to get to a church service over the Easter weekend, even if you're not at home. This needn't be on Good Friday or Easter Sunday; there might be a Messy Church event on Saturday afternoon. If you're not at your usual church, do some research online about the nearest church to where you will be and find an appropriate service to go to. This factor of the 'unknown' might give you plenty to talk about as you encounter a familiar story in an unfamiliar way. Make sure you find some time after the service to chat informally about what your whole family thought.
So, enjoy your eggs, buns and Simnel cake (for the marzipan aficionados among you), but don't miss out on some massive faith-building opportunities this holiday!