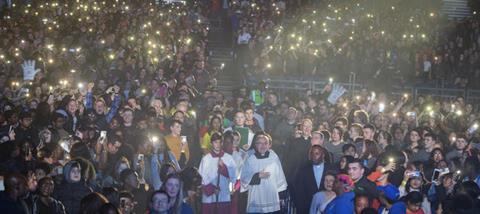 They admitted that had they met as teenagers, they probably wouldn't have got on! The way they bounced off each other, speaking with such clarity and honesty, really caused people to think about how they measure their significance.
Towards the end of the day, the presence of the Holy Spirit was electric as a 100-piece gospel choir, made up of singers from schools across South London, led by choir director Natalie Christian-John, sang Blinded by Your Grace and Amazing Grace, as a stream of priests processed through the Arena onto the stage for a time of liturgy.
Then over 8000 people fell silent with reverence and prayer as the Blessed Sacrament was brought to the stage.
As the day drew to an end and people started to think about the long journey home, the chair of CYMFed, Fr Dermott Donnelly (who many probably realise looks and sounds familiar but can't quite work out why!), thanked all involved and attending and handed over to Tim Hughes, who made sure everyone got one last burst of worship and joyful praise to see them through their journey home and beyond.
Since the event, a mother of an attendee has already got in touch with CYMFed to thank them, as her son who self-harms, is on medication for depression and describes himself as a 'mistake' and 'worthless', returned home to say: "Mum, I am not a mistake. I just have to find what it is that God has made me for".