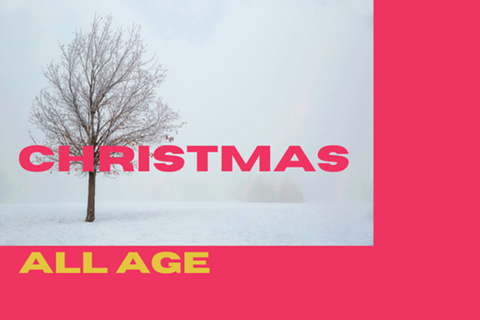 Registered users only: Download as a PDF here.
BIBLE PASSAGE: Luke 2:1-20
BACKGROUND: Christmas can be a time of great spiritual connection, but the story is perhaps all too familiar for some. We often rush through the events of the narrative without reflecting on what it means. God sent
his son to live with his people. The great Emmanuel: God with us. The saviour promised by the Old Testament prophets. Jesus' birth is an event that should engender joy, and mirroring the angels' celebrations we should also celebrate.
WELCOME ACTIVITIES
OPTION ONE: Celebration preparation
You will need: tables arranged around your meeting space with lots of decorations
Set out the tables before the session. As people arrive, direct them to the different tables and challenge them to decorate the area of church around each table. Make sure you have one or two volunteers at each table to guide conversation around getting ready for Christmas and to discuss what people are looking forward to.
OPTION TWO: Who is Jesus?
You will need: words that could be used to describe Jesus, each written on a separate piece of card; blank pieces of card; marker pens; a Bible
Spread out the words and invite the congregation to choose ones they would use to describe Jesus. You could do this as people arrive or at the start of the service, inviting people of different ages to select
a few. Have some blank cards available so that people can write their own if they want to. Invite people to say why they chose those words. Finally, read Isaiah 9:2,6-7.
BIBLE STORY
You will need: live music of the songs mentioned in the story below or recorded tracks and the means to play them; volunteer readers
Before the service, ask the musicians playing in the service to prepare the carols listed in the story below or to find recordings of the songs to play at the appropriate times. Gather volunteers to read out the different sections of the story. You could all practise beforehand or ask for volunteers on the day.
More than 2,000 years ago, a young couple was about to have their life turned upside- down. And the whole world was about to be turned upside-down, too! Sing the first verse of 'O come, O come Emmanuel' together.
God's special saviour, promised by vari- ous prophets hundreds of years earlier, was coming into the world. God was sending his son to be a light for the whole world. Sing together the first verse and chorus of 'Light of the world' by Tim Hughes.
Augustus, ruler of the Roman Empire, decided to find out how many people lived under his control. He ordered a census, and everyone had to return to their home town to register. Joseph and Mary had to go to Bethlehem. Mary was expecting a baby: Jesus, God's Son. Jesus was going to be God's special saviour! Sing the first verse of 'O little town of Bethlehem' together.
While they were in Bethlehem, the time came for Jesus to be born. As Bethlehem was extremely busy at this time there were no guest rooms for Mary and Joseph to stay in, so they had to stay in a place where they animals lived. And it was there that Jesus was born. Mary wrapped the baby in cloths and laid him in a feeding trough. Sing the first verse of 'Away in a manger' together.
Meanwhile, in the hills around the town, some shepherds were looking after their sheep. Sing the first verse of 'While shepherds watched' together.
The angel told them that God's special saviour – the Messiah – had been born in Bethlehem. Then a whole host of angels appeared, singing praises to God! Sing the first verse of 'Angels in the realms of glory' together.
The shepherds rushed off to Bethlehem to find the saviour of the world. When they got to where Mary, Joseph and Jesus were staying, they worshipped Jesus. Then they went back to their sheep, telling everyone they met about Jesus: Emmanuel! Sing the first verse of 'Joy to the world' together.
SMALL GROUPS
You will need: copies of the questions below; Bibles
Break into small groups – made up of one or two families, or of different mixed-age groups – then give each group a copy of these questions and a Bible:
What is your favourite part of the story?
If you were Joseph's relative, what would you have thought of these events?
What would you have thought if you were a shepherd?
If Jesus is God's special saviour, what does that mean to you?
Give the groups time to chat through these questions, referring to the Bible passage if they need to.
REVIEW
You will need: a roving mic (if needed) Get some feedback on questions two and three from 'Small groups', using a micro-
phone to hear people's contributions if your meeting space is large.
RESPONSE ACTIVITIES
Set these three activities up in different parts of your meeting space. Explain what each one is and encourage people to go to the one that will be most helpful to them as they process what they have discovered.
OPTION 1: Paper chains
You will need: strips of paper; pens; sticky tape Encourage people to write different reactions, adjectives or feelings about the story on the strips of paper. They can then make loops with the strips and join them together to make a chain. As they work, they should chat about the story and the words they have written down.
OPTION 2: Biscuit decorating
You will need: biscuits; icing; edible Christmas decorations
Set out the biscuits and decorations, then invite people to decorate a biscuit to reflect what stood out for them in the story. As they work, encourage the group to chat about what they are doing and why.
OPTION 3: Discussion
Assign some volunteers to help guide a discussion about the story and what it might mean for the congregation today. What difference will this amazing story make to people's lives in your area?
CLOSING
Bring everyone back together and ask if anyone would like to share what they did, thought about or discussed during the response time. Thank everyone for taking part and say an appropriate blessing to close the service.
Supporting documents
Click link to download and view these files