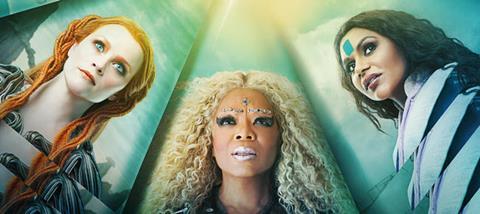 Is Disney's new movie really airbrushing Christianity?
Headlines like 'A Wrin­kle in Time caught in Christian controversy' should not come as a surprise. From the book's release in 1962, various debates and controversies have surrounded the plot, story content and supposed 'new age' message.
A much more popular novel in the US than the UK, challenges have been made to school curriculums where the book has been included and excluded as required reading over the decades. In 1985 the book and excluded promote witchcraft; while parents in Alabama back in 1990 felt the book conflated Jesus Christ with other historical figures and represented God incorrectly. The recent Disney adaptation has brought fresh religious criticism, with the claim that it erases the book's Bible quotes and cuts mentions of Jesus and other Christian figures from the plot.
When asked about this, the film's screenwriter Jennifer Lee suggested that the religious angle of A Wrinkle in Time was removed as: "there are a lot of elements of what [Madeleine L'Engle] wrote that we have progressed on as a society, and we can move on to the other elements."
While this may upset some, it's important to remem­ber that Madeleine L'Engle was clear that she never saw herself as a Christian writer: "I am a writer. That's it. No adjectives. The first thing is writing. Christian is secondary." Jennifer Lee admits that Christian themes are present in the book, but that she decided to leave them out to promote a more inclu­sive message that doesn't focus on any one religion. "That's what inclusiveness is to me in this film…really looking at [how] all of us have a role to play in this no matter where we come from or what we look like."
Is A Wrinkle in Time further evidence that Holly­wood and the media machine are keen to secularise our society? I don't think so. We live in a world with more Christian media than ever before if parents want their children to engage specifically with that content. It shouldn't come as a shock that a big film studio chose to make something that could relate to the biggest audience possible.
Perhaps challenging the film for being 'secularised' is a mistake. Instead, maybe Christian audiences could praise the film for encouraging young girls to believe in themselves and break through the stereo­types society pins on them. If parents want to engage with religious themes, the book is still available.
It's probably best to leave the final word to Made­leine, who responded to "nonsense" criticism about the book's "witchcraft and fantasy". She said: "First I felt horror, then anger, and finally I said: 'Ah, the hell with it.' It's great publicity, really."
Tom Wade is head of humanities at Leventhorpe School in Sawbridgeworth
Mum accused of tasering son out of bed for church
Perhaps Sharron Dobbins, a mother from Arizona, should have read our feature article on dealing with tired children last month!
Sharron appeared in court after being accused of using a stun gun to get her teenage son out of bed for church. She is said to have used the device after the boy refused to wake up for Easter services, but denies using the weapon.
Speaking to Fox 10, Sharron said: "I did not touch him at all with the taser. I made the sound with the taser."
Police said two small bumps were found on her son's leg. She has been released on bail and the gun has been confiscated.