Lisa Skinner has mixed feelings about the film, which has plenty of talking points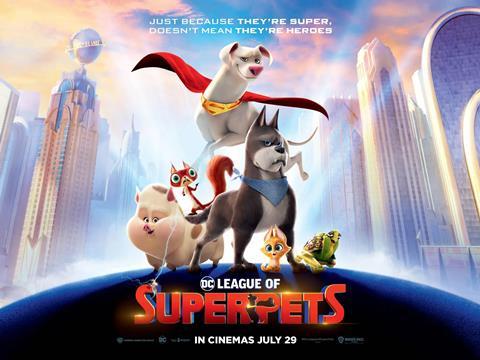 Film: DC League of Super-Pets
Rating: PG
Series: Part of the DC Comic Franchise
Running Time: 1h 45m
Genre: Family entertainment
Overview
Krypto the Super-Pet and Superman have been friends for life, they share the same superpowers and fight crime side by side in Metropolis. When life takes a different path for Superman cracks start to show in the relationship but when Superman, along with the other members of the Justice League are kidnapped, it's up to Krypto to find a way to rescue them with the help of some other, newly supercharged pets.
What you liked
This is a light-hearted, comical watch with the main characters humorously brought to life by the familiar voices of Dwayne Johnson ('The Rock') and Kevin Hart.
What you didn't like
The jokes are funny but at times beyond the grasp of young children, it felt a bit like the script writers were pandering to an older audience. The film was longer than most children's movie and at times the storyline was slow. The main character, Krypto the Super-Dog, is uninspiring for much of the movie, indeed he only comes into his own at the end.
Thoughts for parents:
Parents should be aware of a scene where an unfamiliar dog in the park is lamenting about his owner getting engaged, at which point the shot cuts to a same-sex couple (two females). While this scene is brief, if you have a highly observant younger child this may provoke questions, if this is not yet something you have discussed with your child already.
Most movies from the DC franchise tend to be unsuitable for younger children but this film gives them a taste of the Justice League. Like most of their movies it is a classic tale of good versus evil. However, the overarching theme is very much about friendship. At the very start Kal-El's mother encourages his father that her 'Super' baby will need a friend and they ask Krypto to 'watch over' their son as they send them both away from a doomed and burning planet Krypton.
The theme of living in community with others permeates the whole movie, with the film driving home the point that we thrive when we are in relationship with others. When we are part of a community we draw strength and encouragement from others and when each use their unique talents and work together they can realise their mission/goal. Indeed, one of the songs on the soundtrack is Let's Work Together by Canned Heat including the lyrics "Together we stand, divided we fall."
This film is littered (excuse the pun) with teaching points for children. It touches on the desire to belong (adoption), hope, power, unconditional love and sacrifice. In one scene Ace the dog explains to Krypto that when you love someone, really love someone, you have to be prepared to do anything for them, especially when it hurts. Which is something Krypto ultimately discovers for himself.There are also a couple of scenes where Krypto receives wisdom from his spiritual father from another world.
All in all this is a fun movie to watch with your children with several life lessons to expound with them.


Lisa Skinner is co-owner of Order in the House - a Decluttering and Professional Organising company in Northern Ireland – find out more at www.orderinthehouseni.com
View full Profile