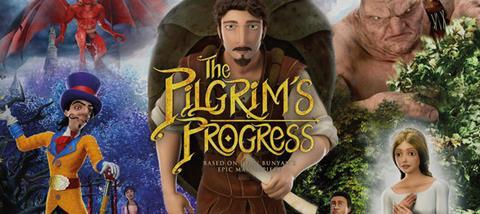 It's not every day a latest film release makes its premier in your local Cineworld, so when we were invited to the first UK screening of the new The Pilgrim's Progress film, we jumped at the chance.
I'm Bedford born and bred, and as someone who grew up in a Baptist Church with strong John Bunyan connections (note: there are a lot of churches in the area that claim a strong John Bunyan connection!) I was delighted to see the film 'come home' to the town where the story was first written, while Bunyan was imprisoned for his faith.
For most Bedfordians, however, the premier passed unnoticed. There is a clear distinction in the area between those within the church who hold the local hero in high regard, and those outside the church who know he had something to do with the name of a local pub. It is into this dichotomy that a new CGI animation with a soundtrack featuring 'Be thou my vision' and 'It is well with my soul' (but not 'To be a pilgrim') launched last week to be shown in at least 40 cinemas across the country.
I don't think this film is likely to draw new pilgrims to begin their progress, but that does not detract from its value. To have an explicitly Christian story shown on the big screen with production quality on a par with anything else on show is a gift to Christian families, churches and youth groups. Bunyan's story of a spiritual journey through life facing many hurdles and obstacles and his deepening discipleship throughout is wonderfully retold in this adventure tale which pulls no punches.
Following Jesus is a challenging journey and for those who work with children and young people this could be a valuable tool to raise those conversations.
In a change from the original text, this retelling makes the appearance of Satan far more visible, but that helps to express and explore spiritual warfare in far more graphic terms. (To this end, some scenes may frighten younger children and I will be waiting a while before showing my 7-year-old son this film).
If you are fortunate enough to live near to one of the cinemas showing the film, I'd make a trip to see it with your older children or young people, (or even a group of adults!) but be sure to schedule a trip to Maccy D's afterwards so you can spend some time unpacking the themes it explores.