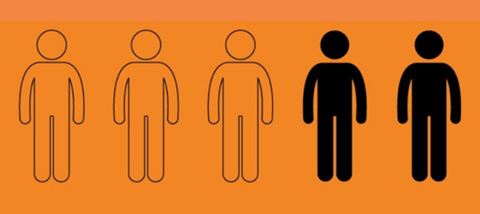 The d word
Diversity is a word that is often bandied about, particularly in the workplace. Our statutory rights are protected by the Equality Act, which aims to ensure that everyone is treated equally and fairly, regardless of race, gender or sexuality.
Part of the reason many Christians go to church is for the fellowship. Therefore, a lack in racial diversity – whether in leadership or among the congregation – can often cause some people to feel excluded and unvalued. So why would it be any different for a child or young person in our Sunday school or youth group whose nationality is not widely represented?
The BAME community
The Black, Asian and minority ethnic (BAME) community is growing. Statistics from Diversity UK in 2018 show that 40 per cent of the London population identifies as part of this group, with 14 per cent of the total UK population identifying as such.
More than half of the ethnic minority population in the UK is aged under 30, with the average age being approximately 12. Data from Youth for Christ also shows that BAME communities are growing at a faster rate than the white population, especially in our cities. Interestingly, the figures show that 75 per cent of Black Caribbeans, 70 per cent of Black Africans and 14 per cent of Indians consider themselves to be Christians.
As the number of BAME youth in our churches and communities continues to grow, we must do our utmost to be more inclusive. One way to approach this is to recruit more BAME leaders.
BAME leadership promotes BAME youth
I remember being in church when I was growing up and hearing the pastor say: "We are all fearfully and wonderfully made in the image of God," which stems from Psalm 139:14. However, I didn't always see people of my ethnicity in church leadership positions as I looked around. If there were, the numbers were small. It is common for BAME youth to hold back from expressing how they really feel because, beyond their faith, they often feel they can't relate to their church leadership. This may be because of cultural and language barriers, or it could simply be due to the fact that they have not had a similar upbringing or life experience.
It is always encouraging to see someone who looks like you achieving something that seems to be impossible. Whether it's Obama becoming the first African-American US president or Oprah becoming a successful African-American talk show host, author, philanthropist and billionaire. When BAME youth see people who look like them in leadership roles it shows young people from ethnic minorities that they can achieve such positions regardless of their skin tone, cultural background or language.
So where does the Church stand on all of this? Programmes like the BAME Clergy Leadership course, which is run by the Diocese of London, help to ensure that individuals from BAME backgrounds have the same leadership opportunities as their white counterparts.
Rev Dr Neil Evans, director of ministry for the Diocese of London, told me: "The modern Church must reflect the communities it serves. In the Diocese of London just 5 per cent of clergy responsible for parishes are from BAME backgrounds, and the proportion is similarly low for senior postholders across the whole Church of England. The Bishop Wilfred Wood Leadership Programme (BWWLP) was born out of a realisation that serious work must be done to encourage the Church in the Diocese of London – working in partnership with Southwark and Birmingham dioceses – to take positive action to increase the inclusion and representation of BAME people."
The recruitment of BAME leaders helps to create key relationships with BAME youth, as they have a mutual understanding. This means that the support systems and resources BAME youth need are often already in place.
Rev Neil said: "When we are young and growing up there is always a person we admire and seek to emulate, whether it be a musician, sportsperson or clergyperson. Just like the Bishop of London is a role model to the next generation of female leaders, those clergy that participate in the BWWLP will inspire the next generation of BAME leaders, within and outside the Church."
It's not over yet
Just because we see change happening doesn't mean that we should stop there. The underrepresentation of BAME youth in many of our churches is an ongoing issue. We must seek to make our youth groups and churches places that are inclusive thriving for BAME children and young people to be part of. And we must intentionally place BAME individuals in areas of leadership so that they can lead the way.
What can you do to ensure that your group, ministry, church or organisation is prioritising genuine diversity in its membership and leadership?