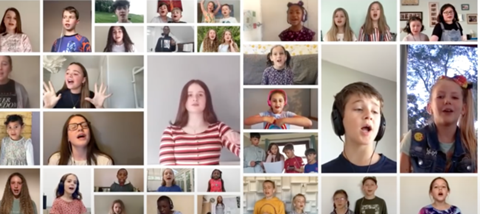 A month ago, I was sat down watching Elevation Church's worship service with my family, and we were watching the service and in it they stood up and spoke abiout this song they had written and that they were performing it now. As a family, we sat there in awe like: "Wow, this is such amazing scripture. God has blessed and anointed this song", and it really just blew us away as a family. We were signing it for days.
Of course, it began to grow around the world and then, on May 3, we had The UK Blessing come out, which was fantastic. We watched that and I just thought it was so cool, that I recognise those faces and the churches involved. But part of me was thinking that I would have loved to see kids be a part of this too because my heart is kids and kids' worship – it's what I've done for 19 years. I've seen how God can move through kids and how they can worship.
I was praying like: "Lord, you know, let us know if this is something [we should do]", and I left it for the night. On the Monday morning I woke up and I had messages from people saying: "Hey, Si – have you thought of doing one with kids?" and so I just felt: "OK, Lord, let's do this".
I sent out an Instagram post reaching out across the world, and I'm sat at my piano working out what key is good for kids to sing in. Flash forward a lot of late nights and a lot of talking to friends in Nashville who were arranging the strings and guitars over in the UK, and videos are coming in left, right and center: landscape, portrait, good audio, bad audio, some people singing a different version all together. It was quite a week. But God has been good and somehow allowed this to happen.
It's been an incredible response, and I've not cried this much in a long time – you know, happy tears. Everyone that has been saying: "Oh, this is so sweet" or "Wow, their voice, their expression, lifting their arms in praise". In the four days we had, we wanted to be as inclusive as possible, so we had children with additional needs and from all corners of the UK.
For us, it's not about chasing viewing figures. If this blesses one person and changes one person's life, it's worth it. We've had lots of views so far and it's great, and I'm encouraged by that. I hope we've been faithful and done the best we can and I'm handing it over to God. We'll just see what God does with it.
Simon Perry heads up All Stars Kids Club. This article is a transcribed interview originally aired on Premier Christian Radio.