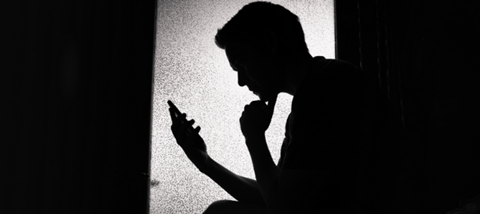 Imagine this. You meet for coffee with your friend who is a youth worker to chat through the joys and challenges of youth work. After the usual update, she tells you about Matt, a member of her youth group. Matt is 15. The other weekend he was invited by some older young people to hang out before they all went to watch the footy together. Excited to be welcomed in to an older, seemingly cool crowd, Matt has been boasting about secret meetings and is making more and more comments that make her feel uncomfortable. 'Immigrants taking jobs' and creating 'no-go areas' in their local town are some of his latest contributions and it seems that Matt is getting drawn deeper into this community of so-called 'Young Patriots'. Recently his Facebook posts are getting more angry, and he's just shared a racist article by the group. You listen to your friend, and you reflect together, but what do you do next?
Along with everyone else working in the public sector, we youth workers have a statutory duty to consider the need to safeguard people from being drawn into terrorism. If we are concerned about a young person who may be vulnerable to the risk of radicalisation, we can make a referral to our local authority safeguarding team or the police for an assessment under the Prevent strategy. Prevent is part of the government's counter terrorism strategy and is all about preventing people from being drawn into terrorism. The Police initially review referrals and if there are genuine vulnerabilities to being radicalised into terrorism the referral goes to a local Channel panel who investigate the case further in order to organise appropriate support (see Figure 1).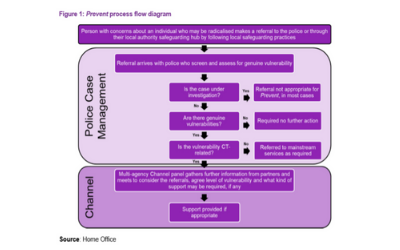 The latest report from the Home Office tells us that 'In the year ending March 2019 there had been nearly 6000 referrals where the majority of individuals (58%) were aged 20 years or under. Those aged 20 years or under also made up the majority of the individuals discussed at a Channel panel (some 839 individuals) and of those, 561 individuals were adopted as a Channel case where tailored support work from across the public sector was provided.
Now whilst this remains a small percentage of the 7.6 million 10-19 year olds in the UK, this problem is not going away. Statistics generated by the Prevent Program show that since 2016 young people have consistently made up around half of all their referrals and in the year ending March 2019 there were more cases referred to Channel because of concerns about right-wing radicalisation than Islamist radicalisation. In fact, referrals for young people at risk of right-wing radicalisation had increased by 14% since 2016.
In September 2020 the Metropolitan police assistant commissioner and head of counterterrorism Neil Basu told MPs that 'counter-terrorism networks had not recorded a rise in terrorism-related material during the coronavirus outbreak, but interest in extremism was on the rise.' He went on to say "What I am seeing – particularly in the right-wing terrorism space...is an increase in lots of young people being attracted to this...we are seeing people as young as 13 starting to talk about committing terrorist acts." Launching the new government website Act Early this week to encourage family and friends to be vigilant in safeguarding vulnerable people known to them, AC Basu cited the arrests of 17 young people on terrorism charges in the past 18 months. Also this week Nigel Bromage, a former neo-nazi who has founded Exit-UK- an organisation that helps people leave far-right organisations - told Sky news that he was shocked that his organisation was asked to support a nine year old who had been recruited by his older brother using extreme neo-nazi video games. It's shocking, and in the context of the COVID-19 global pandemic its even harder to stomach, but in and through my own life I have seen God use youth work and youth workers to bring hope in dark times, and transform conflict and suffering into a kind of post traumatic growth that looks and feels like rocket fuel. So stay with me.
Discussing the big questions of right and wrong, training ourselves and the young people we work with to do apologetics is something we've done for a while now, but lets acknowledge that this ideological frontline is the next level. So what can we do? Firstly, we should recognise this trend. The statistics might be small in terms of absolute numbers of the youth population but the outcomes can be disastrous as the world observed in the case of the live streamed Christchurch mosque shooting in New Zealand in 2019.
Secondly, we know that educating ourselves on how to safeguard young people at risk of radicalisation is essential. Educate Against Hate, Lets Talk About It and Act Early are three helpful resources to equip frontline workers for this task, but lets also reflect on conflict transformation through history and around the world. There is a wealth of good practice to learn from thanks to pioneering youth and community workers in Northern Ireland, new initiatives in education ground breaking and nationally recognised ministries such as The Feast and a free resource pack here.
Thirdly, we must do what we always do in youth work – build strong relationships. We must create for ourselves a platform from which to speak to young people about significant issues, starting with those in our youth groups, but beyond that, reaching out with unconditional acceptance to those in our communities who might be at risk of radicalisation. Head of Counter terrorism Neil Basu was quoted as saying 'His "greatest single fear" was the ability of rising extremism to incite vulnerable people towards terrorism. Who is the church for? Everyone, yes, but most of all the church is for vulnerable people – those at greatest risk, and that includes the risk of radicalisation.