Each month, the safeguarding experts at Thirtyone:eight help us to keep those in our care safe, as well as our policies and procedures sound.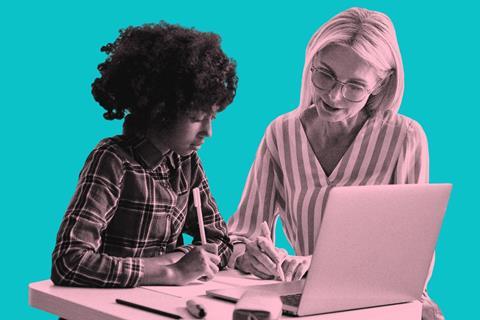 In the run-up to exam season or for top-up intervention sessions, if you're a parent you'll want to give your child the tuition they need to succeed. Over 350,000 children in England and Wales alone are privately tutored and, although most tutors working for agencies must have a DBS (Disclosure and Barring Service) check, private tutors do not currently qualify for a check under existing legislation.
Thankfully, there are thousands of brilliant, highly skilled tutors to choose from. Because this is an unregulated and informal educational activity, private tutors do not have to go through the same safer recruitment processes that they would if working for a school or other tutoring organisation. Private tutors are not eligible for a disclosure check on the same level than if working for another organisation.
Levels of DBS check
If a tutor is self-employed, they cannot obtain an Enhanced DBS check for themselves as these are designed for an employer who is making a decision on whether someone is suitable or not for a paid or volunteer role. The only type of DBS check a self-employed person can obtain themselves is a Basic Disclosure.
A self-employed person could be DBS checked by an organisation who has contracted them to complete work to decide if they are suitable or not. Equally, if they registered with a recruitment agency they might request a DBS check them to make sure they are suitable to work with an organisation.
"Asking some basic questions of your tutor is completely appropriate"
What can parents or carers do to ensure their child is safe?
Safeguarding isn't about casting aspersions or creating an atmosphere of distrust – it's about putting in place as much as you can to protect vulnerable people. Asking some basic questions of your tutor is completely appropriate. At the very least, it would register with a potential tutor that you're aware of safeguarding issues. Any responsible tutor should be able to articulate good safeguarding practice as well as the syllabus they are teaching. Tutors should be proactive with safeguarding and have their own policy and procedures in place.
In October 2020, the Department for Education published a guidance document to help parents and carers ask the right questions when selecting out-of-school activities for their child called Keeping Children Safe during Community Activities, After-School Clubs and Tuition - Questions to help parents and carers choose out-of-school settings. This is a good place to start and offers sensible pointers of things to look out for and questions to ask.
As a parent you'll be looking for a tutor rather than them applying to you, but you can still find out details of their qualifications and experience before having a chat with them. An interview doesn't have to be formal, but it does give a good idea of what the person is like, how they will interact with your child and give you that 'gut feeling'.
If you're still happy to continue, talk to others who have used their services. This may have been how you found them in the first place – through recommendation. After that, it's a question of good common sense to ensure that the environment is as safe as possible.
Teaching in the child's bedroom is not a good idea – instead use an open room where everything is in public. Maintaining a quiet environment may be tricky if there are others in the house, but better to ask siblings to 'find something quiet to do' for the duration rather than have the tutor behind closed doors.
You could have a specific room set aside for teaching if possible linked to a waiting area and be nearby while the lesson goes on.
Tutors should ideally be able to evidence the following if requested by a parent:
Policy and protocols to ensure accountability and transparency.
A Basic DBS certificate or Enhanced DBS check certificate if they have it through work in specific schools or settings.
Evidence of regular training and continuous professional development (CPD) on safeguarding. If private tutors work in schools on a regular basis, they may also be subject to annual training through those schools.
Suitable qualifications / experience in their subject area.
References from parents and professional colleagues.
They should communicate with the parent rather than the child or young person directly via text, email or social media. For online tuition, you might want to drop in briefly at the start of the lesson, where the tutor could cover the main points of that lesson. Alternatively, you could ask that the tutor messages you after the lesson to say what they covered and what your child needs to do during the week.
In conclusion, if your child needs a private tutor for some specific help, following the basic steps outlined above will ensure everyone is as safe as can possibly be. Don't be afraid to ask questions of a potential tutor before asking them to start.
They shouldn't be offended and should welcome your interest. Use the government guidance document if you need some help on where to start and if you're at all worried or have any concerns Thirtyone:eight's Safeguarding Helpline is always on hand to answer questions and to signpost you to sources of help should you need it – call 0303 003 1111 or visit thirtyoneeight.org.