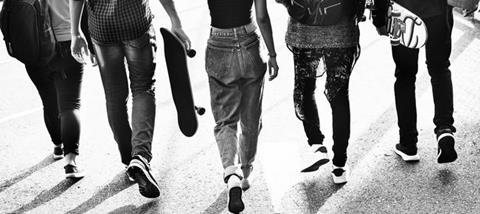 Serious youth violence is increasing, mental health issues are growing and sexual liberty is leaving more and more young people damaged - often dealing with the consequences online with exposure to the wider world.
500 young people were the victims of knife crime across the UK last year
But we believe that the good news of the life, death and resurrection of Jesus is timeless and the freedom he brings speaks into every age, to every area, to every issue and is available to all.

Young people are growing up in a very different world, with everything being so instant and lives being laid bare online for all to see, with living your best life trending on social media and freedom of expression having escalated to a whole new level it's not surprising that many young people's perception of their identity in God is confused.
The statistics speak for themselves. Half of all mental health problems are established before the age of 14 and one in five 14-year-old girls have self-harmed. One in three young people have a recognised mental health condition and 75 per cent of those young people are receiving no treatment.
not just an invitation to youth workers, but to anyone who has any part in mentoring, pastoring, guiding and teaching young people
500 young people were the victims of knife crime across the UK last year and 20 teenagers died in London as a result of violent crime during 2018.
50 per cent of people who suffer from sex and porn addiction developed the problem in their teenage years.
So, how do we get to grips with the real issues that are challenging and influencing young people today? With an incredible line-up of some of the UK's best speakers and Bible teachers on these issues, the Newday team want to help provide a better understanding, develop compassion and sharpen practical skills to help us love and disciple young people in a greater way.
Newday are excited to be gathering youth workers, church leaders, social workers, teachers, parents and carers at Indigo at the O2 in London on Saturday 9 February 2019.

We will be joined by speakers who are experts in their fields, including Paula Hall on sex and pornography addiction, Ben Lindsay on serious youth violence and Will Van Der Hart on mental health.
We will also be grounding the day in the Bible through preaching, worshipping and, crucially, praying for the generation coming through.
Tickets are £40 for the day and you can find more information about the event at youthculture.org. You can also keep up to date by following the links on the website to our social media.
We would love you to join us for what we believe will be a significant event in releasing us all to reach young people in bold new ways and love and support them on a deeper level.