Amanda Porter believes its not just a good film, but has some great conversation starters if you are really brave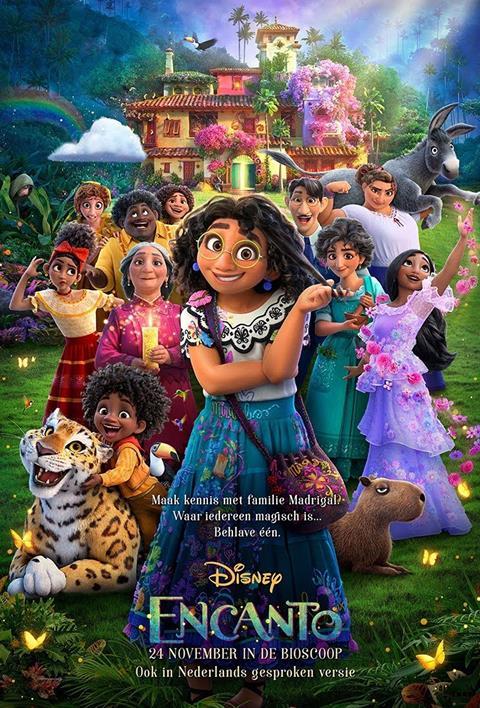 Rating: PG
Other connected films/TV series: Moana (Disney animated feature inc. songs by Lin-Manuel Miranda)
Running time, or each episode length: 1 hour 49 minutes
Genre: Animated feature film
Overview:
One night as the rest of her family celebrate her younger cousin's new magical gift, Mirabel, the only member of her family to not be given a special ability, witnesses the family's magical house beginning to crack and fears the house is falling to pieces, but why and how can she save it?
What you liked:
Lin-Manuel Miranda is arguably one of the most talented and prolific song-writers of our generation, lending his talents to Moana as well as Hamilton, In the Heights and his directorial debut, Tick Tick Boom. Of Puerto Rican descent himself, Miranda has intentionally worked to increase LatinX representation in the entertainment industry. For this film, in addition to casting LatinX actors, he and several other creators travelled to Colombia, spending months immersing themselves in the culture and bringing the best of authentic Colombian food, music and, of course, coffee to this new Disney film, while also subtly including a mention to the history of displacement which so many immigrant families have experienced. The highlights of the film are the fantastically written songs, from the annoyingly catchy 'We Don't Talk About Bruno,' to one of the fastest Disney songs on record, 'The Family Madrigal,' to the Oscar nominated heart-wrencher 'Dos Oruguitas,' a beautiful song about two caterpillars who must go their separate ways in order to become butterflies.
What you didn't like:
There's little not to like in this fun, bright, colourful film. However, I will say it's a bit formulaic and predictable. Of course our hero will have to go on a journey and because it's about the family and their magical house, the journey will be 'in' rather than 'out.' And when you include in your story a song about someone people don't talk about, it's safe to bet that person will probably prove to be fairly important.
Thoughts for parents:
The element of magical realism found within the Colombian culture has intentionally been made the bedrock of this film. In most places, it's simply fun. However, Bruno, quite an intense character, has the magical gift of prophecy which is portrayed as dark or harmful and could be frightening or confusing for some younger viewers.
A proactive discussion with children and young people might be around families who, like the Madrigals, have experienced challenging circumstances (displacement, poverty, illness, etc). Perhaps you might identify those around you who may need some extra support and brainstorm about how you can practically help them.
A deeper conversation to have with older children may be about your own family's history. Many children grow up not understanding the struggles their parents or grandparents have endured, but still bear the weight of their elders' history. Perhaps this could be a good starting place for a discussion that could help them understand more about what their loved ones have experienced.
Star rating: 4 stars our of 5

Amanda Porter serves with the Pais Movement, an international Christian missions organisation that runs a free mission year for young adults ages 18-30, training them in youth and schools work to be positive Christian role models for young people in churches and schools. Amanda loves films, photography and traveling. She currently lives in Belfast.
View full Profile