With around 32.4 million people in the UK playing video games, how can we engage our children and young people with this popular medium? Alastair Jones is on hand to help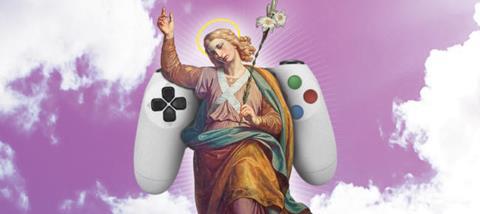 I love Christmas when the whole family has finished eating, the TV is turned off (or screens put away) and everyone gathers to play a board game together.
It does not happen in every family, but games are a great way to get all generations interacting with each other. For me, I remember those times fondly as when we made memories together. In the same way that sharing a meal with others helps us celebrate who we are created to be and God's provision, when we play together we connect through our minds and spirit and simply enjoy each other's presence. Games release our creativity and, in the right context, can help us build teamwork and cooperation. Board games seem to be making a resurgence. However computer games, consoles and handheld devices have become a huge part of not only our lives, but also the economy.
Evolution in gaming
From the first digital games such as Space Invaders and Donkey Kong, there has been a huge progression in the way games are played. There is a multitude of gaming platforms, from the first arcade machines, to complex consoles the size of our hands. Playing a game like Pong with two lines and a dot has evolved into an immersive virtual or augmented reality experience. Games can now be played everywhere, from the family computer or TV, to a tablet in the Houses of Parliament.
At the end of a family meal recently, my son asked if we had finished as he wanted to go and spend time with his friends. I was a bit confused at first. As an employee of Dad's taxi firm I hadn't registered that he needed driving anywhere that evening. But as the conversation continued, I quickly realised that he was only going upstairs to his room and was going to play online with a group of his friends. Then the penny dropped for me. He did not view playing with them as if he was on a phone or at the end of a wire. As far as he was concerned, they were in the room with him. This was not virtual reality for him. It was a present reality.
Last summer we experienced a brief but fascinating phenomenon. You were very likely to bump into parents taking children outside with smart phones in their hands, walking or on a bike ride, to play Pokemon Go. The game is now only played by ardent fans, but it got people outside exercising. However, there was also some concern for the safety of those playing unsupervised, when augmented reality may have tempted them into dangerous places. This highlights the importance but also the opportunity for parents to play games with their children and resist the tempting urge to use them purely as a babysitting device.
Many churches discovered they were 'Pokestops', which, if we were quick to respond, provided an opportunity to serve the local community through providing drinks and somewhere to charge phones. My local church in Stretford, Manchester, has an inscription on the building, which made it into the game as a caption for the Pokestop: "I will place salvation in Zion." It is not the most accessible language for children, but it gave an opportunity to begin a dialogue about what salvation might look like, and what or where 'Zion' is.
Spirituality in gaming
If the world is divided into gamers and non-gamers, I would have definitely considered myself on the non-gaming side of the fence. But I've been on a huge journey myself through the world of gaming and seen just how useful a form of art gaming can be in our mission. Numerous Christians have spoken about the value of gaming as a way of helping children connect spiritually and in a meaningful way. I have been particularly inspired by Andy Robertson, a journalist and gaming expert who shares his thoughts and ideas on his FamilyGamerTV YouTube channel. Andy has been pioneering Christian thinking on this and his TedX Exeter talk is a good summary of his thinking (see youthandchildrens.work/links). Bringing families together around gaming, he uses his own experience as a parent and models healthy practices in the home around gaming.
Gaming is not for everyone, but there are few parents who have not at least played a game app on their phone or tablet. The Nintendo Wii brought generations of families together to play in a new way. Angry birds have been aimed at towers of pigs on countless car journeys and candies have even been crushed during many long waits at doctors' surgeries. Gaming is a huge part of the entertainment industry and while hours can be spent watching films and online videos, or reading books, the interactive nature of gaming lends itself well to helping us explore our feelings and thoughts as well as engaging with others.
Since I can remember, talks or sermons have been enhanced by the arts. Quotes and stories or a reference to paintings and, more recently, clips from films, help us connect in worship and learning. Therefore, for the past few years, I have been interested in how gaming, as part of the world we inhabit, can help us explore better ways of discovering who God is, both in church and the home environment. I have been seeking interesting games to play together with young people and children to see where that takes us.
I have played through a number of games with a group of young people I work with locally. Like many youth clubs, we have a Wii and have used an Xbox and PlayStation, playing regular games like FIFA and Mario Kart. However, I have also intentionally encouraged young people to play games that have something more to them than the popular conventional games. We have played games as a group, passing around the controller and asking young people to reflect on their feelings and experiences as they play through the game. A similar process would also work in the home. I have played through games with my elder son and reflected on themes, content and how it made us feel.
One such game was Flower. We played weekly on the PlayStation over the course of a few weeks, which allowed us to talk about the world we live in, creation, danger, oppression and how technology sometimes overwhelms us. We ended by feeding back and reflecting on how we, as a community, were able to play together to achieve completion of the game.
Another game, Passage, was much shorter, taking only five minutes. The creator only meant to design a game that explored the book-ended life (birth to the grave), but the young people I played it with came up with so much more than that when given the opportunity. They reflected, for example, that life with a partner gave companionship but also had sacrifices as they were slowed down and had restricted movement in the game.
Some games are perfect across all ages, such as Wii Sports. Finding the right game that suits the age of the child playing is always key, and looking outside the mainstream often reveals hidden gems. I've found that the 'playing alongside' approach can be wonderful at getting young people to open up about all sorts of subjects or issues they might otherwise be unlikely to share.
Gaming has a unique potential to help create a space for 'shalom' and for God's kingdom to be experienced
Minecraft
One of the most popular games for children in recent years has been Minecraft. The ability to move around a landscape, build, create (and destroy) is part of the excitement of the game. Minecraft has been used in a number of ways to explore meaning. One example is Victoria Bennett who, in partnership with digital artist Adam Clarke, included a poem built in Minecraft to remember her mother, written and designed during a period that she had been diagnosed with terminal cancer (see youthandchildrens.work/links).
Another example was when Adam Clarke was asked to join in with a restorative project in Northern Ireland, creating a parallel digital version of a wooden temple being built as part of the healing peace process. There was a physical temple built outside Londonderry-Derry and a virtual copy in Minecraft, which enabled people from all over the world to visit it (see youthandchildrens.work/links).
A great intergenerational exercise to try in Minecraft is for a parent or older relative to describe their childhood home to a child or young person and set them a challenge to build it in Minecraft. The conversations will be precious to both. Or why not make a family postcard out of Minecraft to remember a special trip, festival or church event?
When we play together, we connect through our minds and spirit and simply enjoy each other's presence
Finding shalom
It would be remiss not to address the elephant in the room about gaming. Just as there are texts within the Bible that we struggle to comprehend as Christians, there are a number of digital games that have violence and unpleasant themes, which appear to offer little to us in the form of connecting meaningfully and spiritually. That does not mean we dismiss gaming as something overshadowed by a minority of games on the market. It simply means that, by using our wisdom, we seek out games that can affirm and grow young people's understanding of God's kingdom and their place in it.
I have made my journey over the fence to the gamer's side. I'm being constantly challenged as a parent of two teenagers to find ways of encountering a 'shalom space' in gaming. We can make room to hear God and find ways to feel and sense his kingdom within a game. That shalom might be experienced as God connecting us to each other, challenging us in areas of social injustice or receiving the stories of grace told through games.
Many families move the games console into a public space in the home, making it a corporate way of sharing and playing together, helping parents and children enjoy quality time together that is active and engaged, not passive. In our families we can help to build resilience in our children as we encourage them to question gameplay and pose challenges in how they connect in real life.
Perhaps an intentional conversation around a game might be a way of solving that difficult question of how we engage our family in devotions meaningfully. What opportunities could you use within your family or ministry to engage in this influential part of today's culture?
Practical considerations
When choosing a game to play, make sure you take note of the PEGI (Pan European Game Information) rating and always play through a game before downloading it for your children. You can get reviews and more information on games from sites like askaboutgames.com. Parents can also get up-to-date information on game updates and how to ensure your child has safe settings (such as the new Better Together update of Minecraft) from sites like YouTube's Family Gamer TV. It is also worth finding out about parental settings on particular devices (eg in an Xbox Live account you can turn off online chat). Another helpful piece of hardware for families to consider is Circle with Disney, which provides a mechanism for discussing and setting allowed family online and screen time, as well as creating the opportunity to negotiate or reward good use with additional bonus time.
Try to find games for multiple players or games that can be corporately experienced. These will prove helpful in both a family and church group setting. Try and play with your child. It's more fun that way and can be a lovely bonding experience.
Above all, allow space in your gaming for shalom to be encountered by your children. Gaming has a unique potential if we approach it thoughtfully to help create a space for God's kingdom to be experienced. By playing the games together we have a shared experience where we learn as parents or children and youth workers. The questions we ask throughout and the way we set up the game is vital. Try to begin with an expectation of exploration and learning from the start:
Ask open-ended questions about feelings, choices and experiences.
Ask questions like: "Who was impacted?", "What happened there?", "Why do you think that happened?", "How did that make you feel?"
Allow the player freedom to make mistakes in the game, even if you think they are getting stuck, and only intervene as a last resort.
Ask the children and young people about games they think might be interesting.
Recommended games
(from youngest to oldest suitability)
Spaceteam - tablet and smartphone team cooperation game.
Minecraft - Lego building in the virtual world with so much more!
Passage - five-minute retro game about the certainty of life, death and relationships, available as a free download from Jason Rohrer.
Flower, Journey and new game Sky from Thatgamecompany - exploring creation and community with beautiful graphics and a very different approach.
That Dragon, Cancer - Ryan Green remembering his young son Joel by taking us with his family on their faith and life journey.
Sweatshop - Simon Parkin's game explores why manufacturing businesses might cut corners, with understanding of the consequences.
Cart Life - experiencing living life on the breadline and making almost impossible choices to survive.
Gone Home - a game for older teens exploring parental tensions (NB: themes of the game include one regarding an exploration of sexuality).