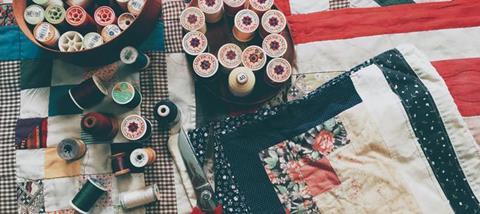 1. Get yourself some white fabric
It can be patterned, plain, an old white T-shirt – whatever you like! Just try to find a material that isn't too delicate. Cut it into a square so each side measures to 30cm. (Please try to keep to this size so your piece can be stitched into the final banner.)
2. Write the words 'I see you' on the piece of fabric
Let this be a prayer – that these women would not only be seen by the UK government, but seen by their cultures and communities too.
You can use these prayer points if you like. Pray that:
Governments would recognise the vulnerability of Christian women and this would be reflected in policy
Our persecuted sisters would be seen and valued by their communities, so they can fulfil their God-given potential
Where Christian women are deprived of basic needs such as food and shelter, that they would be provided for
Initiatives such as Open Doors trauma workshops and socio-economic development projects would be able to expand and reach more women.
3. Write your name…
Charity – who participated in an Open Doors trauma workshop in Nigeria – had never written her name before. She said: "I am so happy, I have never held a pen in my life before and it was the first time I have been able to write my name."
God calls us all by name, he knows us. Many of these women are not seen and valued in the way they should be. As you write your name, thank God for your freedom, and perhaps ask him how you can support your sisters further.
4. Send your petition to us…
Pop your handmade petition in an envelope and send it to:
Open Doors UK & Ireland,
PO Box 6,
Witney
OX29 6WG
5. Thank you!
Huge thanks to you for speaking up for your sisters. Your support is restoring hope and dignity to persecuted women worldwide.
This blog was originally published by Open Doors Youth. Find out more of this and many of their other campaigns.