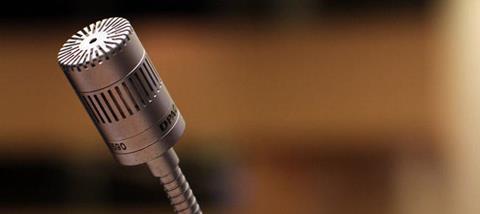 Guildford Diocese (the Church of England in West Surrey and East Hants) has launched a project to literally hear the voice of young people. Preaching. Often young people are given leadership responsibilities, helping in groups, doing the tech, playing music in churches etc, but churches sometimes shy away from giving young people up front public leadership. We think the church is missing out, so we wanted to encourage churches to find ways to give young people a voice in their worshipping communities. What better way than to encourage people to try preaching?
In the context of a discussion on preaching Kenda Creasy Dean talks about challenging the idea that young people are merely 'objects of mission' but can be 'agents of mission', not merely receivers of divine grace, but bearers of it (Practicing Passion, p148). We want to encourage churches to give young people the space to preach the sermon, not just listen to it, to be agents not objects of grace. Some churches are reluctant to do this, worrying about what might happen – but this competition is all about worrying what might happen if young people have something to say and we don't listen to it!
The idea is to create a safe space where young preachers can try out new ideas, and give preaching a go to see if they like it. It is about celebrating some of the many gifts that young people have, and discerning what God might be saying to us and to the Church through young people today.
Bishop Jo Wells, the Bishop of Dorking talks says: "Young Preacher of the Year provides an opportunity for any young person aged 14-18 with a connection to Guildford Diocese to have a go at preaching, and for others to discover budding preachers in their midst. Giving young people a voice and a very public platform is vital if we are to be 'transforming church, and transforming lives' as we proclaim in our vision. If you are aged 14-18 and think this might be for you, we would love you to enter. All those with a connection to the diocese are welcome to enter, regardless of experience or qualification."
Of course the competition is a flawed idea – preaching isn't a sport and it won't appeal to every young person, but anything we can do to discover, nurture and encourage the gift of preaching in our churches we should do.
The competition is only in one Diocese at the moment (sorry if you are from a different area!) but we are hoping that if it is successful, it might spread to other areas, and who knows? A national challenge might come next year!
If you want to see more, watch some videos or find out how to enter then visit www.youngpreacheroftheyear.co.uk!