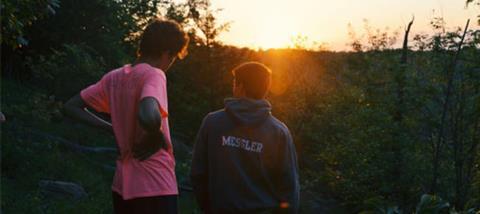 I've been married to my lovely wife, Michelle for fourteen years or so and we have a really big table in our dining room. For many years, it was just the two of us sitting around this table. We couldn't have our own children unfortunately and we felt passionately about the fact that we didn't want this table to stay empty. So we started a journey towards adoption.
It took a while but now we've got two lovely boys who are a major part of our life and they fill the table! It's a different table now – it's very loud, it's very boisterous! Two lads have got a totally different life from what they used to have and they've got some really amazing chances off the back of that as well, which is a real privilege and a real blessing to us as well.
Our lives have been turned upside down too, but in a really good way. Adoption and fostering changes your life. But it's not about you. It's about benefiting other people. We didn't want to get old and bitter on our own and we wanted to open our house to people who don't have an opportunity to have a family and just say: "God, what are you going to do with this. Here's our home. We want to have two siblings that come into our home and to do life with them."
When we started the process, there was this idea that you get to about 8 or 9-years-old and you become unadoptable and for us, that really broke our hearts. We just felt that no child, no person, is unadoptable. So when we started to look for who to have in our family, we went for a sibling pair that were of that age, so our lads are 9 and 7 now and we just felt that was really really important. They deserve to be together, they don't deserve to be split up just because that's what normally happens.
There's ups and downs and there's moments of absolute joy and there's moments of real pain as we work though some of the stuff that they're going through. You, as a parent, then take that on and that can be tough but you're seeing change. You're seeing people come to their full potential, which is just phenomenal and we love doing it. We haven't looked back since!
Our decision to adopt came after we went to a Home for Good seminar at Spring Harvest years ago. We found out a little bit more about the facts and figures about fostering and adopting across the UK and it did really challenge us. We weren't satisfied with the fact that some children will go into long term fostering because they become unadoptable and we just felt broken, compassion and all those things that you do when you get heartbroken for something that God clearly places on your heart. We felt passionately that those 'unadoptable' kids were the ones we wanted to adopt.
If you're thinking about fostering or adoption, there's lots of ways to look into it. You can contact National organisations, which is what we did through Barnardo's, who were really helpful for us. You can go through local authorities and smaller charities as well. There are lots of different avenues. I would also suggest checking out the Home for Good website: homeforgood.org.uk.