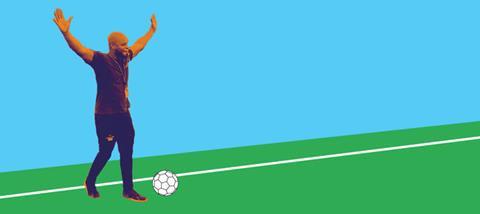 We've seen many people who work alone here burn out very quickly
We generally meet at 3:30pm to set up, litter pick and do a general risk assessment of the area. If the kids arrive early they help set up, which makes them feel more a part of it. We then run warmups, skills and play matches, dividing the teams into primary and secondary school. Halfway through we have a five-minute reflection around a theme such as discipleship, forgiveness, friendship or talents. Then we have a short time of prayer. Once they've seen us engage in sport and having fun they remember what we're talking about. I believe God does the rest.
In the past we've helped young people with anger management and disputes, and we offer to pray for them around things like tests, sports trials and family situations. They share all sorts of things with us and we can offer pastoral support. It's very informal but we believe that listening and reacting in the moment is one of the most fruitful things in terms of ministry.
Numerous ministries have popped up and then disappeared, which leaves mistrust within the community
Success for this project looks like community. God the Father, God the Son and God the Holy Spirit are in relationship with one another, and as the Church, we're meant to show the community what God is like. For these young people, this project is their community; it's a safe space for them. We have the opportunity to share faith and demonstrate God's love.
People often ask: "How do we get bums on seats in churches?" but church is simply a gathering of people. Jesus went out, talking in parables in the fields or wherever. For these kids, this may be the only time they hear anything about faith. It's about being open to the Holy Spirit and asking God how he is leading these young people. Do we then invite them to something else or is this their church? How do we keep them growing?
Birmingham is massive and even in our small community there is more work to be done. We'd love to engage whole families. This can be a long process but everybody knows somebody who became a Christian through sport ministry. There is a great history of sport and church. William Scattergood, who was part of the Methodist Church in the late 1800s, was a Christian and he co-founded Aston Villa Football Club. And William McGregor, who was a committed Christian, formed the football league (now the Premier League). He also came from Aston.
Click here to request a free copy of Premier Youth and Children's work magazine