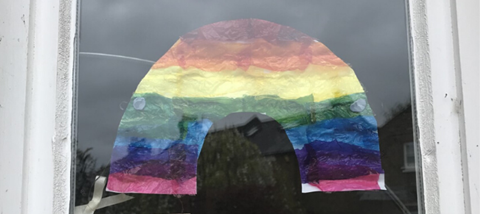 In a week of big adjustments, my daughter was learning that she can choose to respond in crisis by using her creativity in a way that would speak hope and blessing into people's lives, even strangers walking past our home.
With all that had stopped or paused in our life, she noticed that the post, milk and parcels were still being delivered, so the next sign to go up in our windows was a thank you sign.
As I go for my daily exercise and see all the rainbows in the windows, I can't miss the beauty. In the midst of this season of crisis, we are teaching this next generation that they can use the creativity that God has given them to impact their community for good, to be a blessing. We are teaching them that offering what they have does make a difference. We are teaching them that they can remind a grieving world that there is always hope.
The weekend before Holy Week, we decorated our home with our Easter decorations and we added a cross to the window next to our rainbow because, ultimately, the promise of the rainbow becomes truth in the death and resurrection of Jesus.
This week, I can look to Easter, not full of fear and anxiety, but grateful for the glimpses of resurrection life God has already opened my eyes to and with hope and expectation that he is at work in the midst of all we face.
Teri-Anne Cavanagh is mum to two.