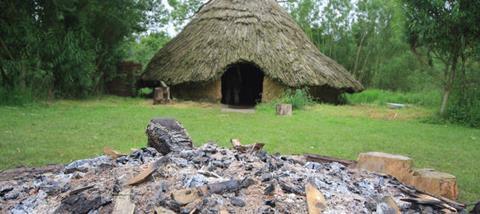 Intents Festival started out as a weekend retreat for a church youth group in Norfolk, but in subsequent years has become the weekend away for numerous youth groups from across East Anglia.
Lots of youth groups bring their 'unchurched' kids, who they have connection with through cafés and schools, and we ensure that there is always a gospel message and an opportunity to receive the Holy Spirit. What makes Intents unique is the freedom young people are offered - the site is small and contained, and the young people choose which seminars or workshops they attend. Each seminar slot has three streams of 'spice'. 'Korma', is for those who have no experience of church before and includes topics such as who Jesus is and how and why we should read the Bible. At the other end, 'Vindaloo' covers topics such as prophetic evangelism, overseas mission and spiritual warfare. The young people decide which spice stream they want to go to, based on where they feel they are with God. There's no pressure to accept Jesus, and young people have the opportunity to explore what is being talked about from where they are.
Between seminars there are huge wide games that include water bomb catapults, flags and base building. There are craft workshops including woodcarving, crochet and video storytelling. The young people are able to choose if they want to attend these or simply spend time in the café space. In the evenings we have a large gathering, with everyone together, including worship and a ministry time at the end.
Weekend events such as Intents are great, but it is the relationship with the youth leader that facilitates real discipleship among young people over long- term periods. But we also believe in the old adage that six months' worth of youth work can be achieved in one weekend away. So, we had the idea that we would provide all of the meals and activities for downtime, so that youth leaders could be freed up to spend time focusing on mentoring and answering questions which arise among their young people about the topics covered over the weekend.
The beautiful thing about Intents is how organic it is. As well as composting toilets and chickens walking among water games, the whole weekend feels very home grown - the venues are all handmade, and include an Iron Age roundhouse, a Victorian barn and a wooden geodesic dome.
Everything we do comes out of community - very little money is spent, we try and borrow or make everything we need. It is because of this that Intents can be so affordable to the young people - as little as £35 including all the home-cooked meals! Most of the food is sourced locally, or even grown on the farm itself. That 'home-grown' element translates to the volunteers too! They all come to the event through relationship - they are friends or family and most of them were young people themselves who now lead different aspects of the event. Many of the volunteer team became believers at Intents as young people. For example, Rebecca Wilkinson (aged 21) has attended Intents since she was 11, and now, at Intents 2017, will lead the worship band.
Intents is now connected one way or another to nearly 20 different churches, across denominations, through speakers, young people and volunteers. We're looking forward to continuing to build relationship and community at Intents 2017 and beyond.
Five ways to create community on camps
Keep it small - don't let your project grow beyond the links and friendships that can be made.
Use what you've got - don't be afraid to beg, borrow or… borrow. People often love to give and this builds community in itself.
Often money solves problems without needing care or creativity, but creativity is the visible heart of what you are doing. Don't be afraid to solve a problem without funds!
Err on the side of yes - if someone in your team has a wacky idea that you've never heard of before, why not try it as an experiment? It could be the next big thing you're looking for!
Trust your team - if they have the heart of what you are doing and love Jesus, then trust them, even if they do it differently to how you would. Worst case scenario? They'll learn something!
Adam Jackson is the director of Intents and the guy who sorts out the bins! Intents 2017 takes place on 26th-29th May and 31st May-3rd June. Visit intents.org.uk for more information.