Spotlight we feature a Christian charity or ministry that either directly serves children or youth in some way, or those aiming to support them, whether in a full-time, part-time or volunteer capacity.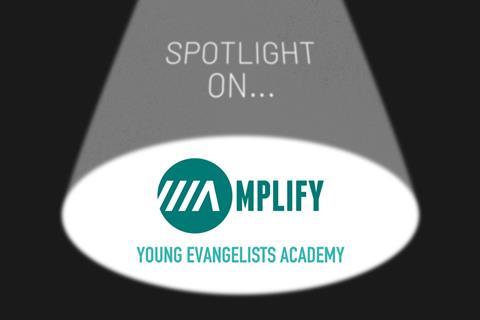 Purpose
Amplify seeks to raise up a new generation of evangelists through gathering like-minded eleven to 17-year-olds and seeing young people encourage each other in their faith and witness and be empowered in how they live that out in their day-to-day lives.
Location
As the national Young Evangelists' Academy, the ministries behind Amplify include HOPE Together, the Church of England, Scripture Union, Message Trust, Youth for Christ, Pais Movement, Alpha, Luis Palau Association, Redeemed Christian Church of God, Elim, Evangelical Alliance and a number of other partners.
Location: HOPE, 8A Market Place, Rugby, CV21 3DU
We are successful when…
Josh Taylor, a 17-year-old from Harrogate, never considered himself an evangelist, thinking they were "a little bit weird". Josh came on Amplify: "I was like, 'Aw no, now I am one, aren't I?'" Since becoming involved in Amplify, Josh has grown in talking about his faith to friends, at church and online through the Instagram account Livin It Out. Josh has now seen friends coming to know more about Jesus and start their faith journeys.
So success looks like finding, equipping and releasing more of the natural young evangelists like Josh in our churches – to reach our nation and beyond with young people reaching their peers with the hope of the gospel.
Things are tricky when…
We have to make a selection from applicants as we only have 100 spaces. It would be great to be able to grow Amplify to offer more spaces. We also want to learn more about what local churches need from us and to be able to support them better in raising a new generation of evangelists.
Hopes for the future
HOPE Together's youth director Dan Randall says: "What if we find the next Billy Graham, Jackie Pullinger or J John?! The possibilities are endless. Imagine a new generation reaching their generation for Jesus, equipping the Church to reach this generation and equipping the next generation to reach the generations to come!"
How you can contact us
To get a young person signed up and find out more, head to our website.