Rebecca Glover reflects on a series finale that has a myriad of sexual and relational topics that can be usefully explored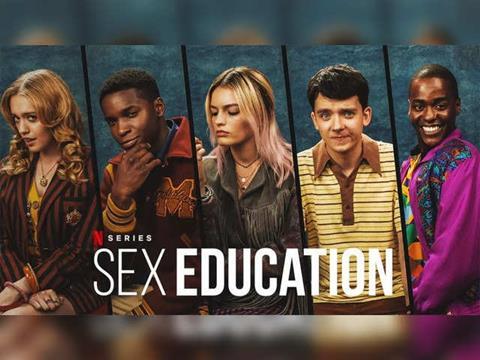 The Series: Sex Education - 4th and final season
Rating: 18
Genre: Coming of age drama
What you liked: I thought the tricky topics were generally well handled.
What you didn't like: There were lots of new characters for the final season. I would have liked more screen-time and further development for the main characters.
Please note there is 18 rated language and inferences in the trailer
Thoughts for parents: Sex Education is understandably rated an 18. Every episode regularly discusses sexual health related problems, and there are a couple of scenes where it is clear that the characters are having sex, and naked bodies are shown, with the exception of genitalia.
For a final series, it felt like too many themes and characters were thrown into the mix without proper development or even backstory. That said, these are all topics that young people will be facing; not one felt misplaced in a drama featuring teenagers. I think Sex Education does a good job at openly talking about these things, showing the difficulties and nuances of adolescence, and often coming to good conclusions. For example, when Roman and Abbi are having difficulties in their relationship, they come to the conclusion that open conversations are key. Jackson and his casual girlfriend explore consent. Aimee finds that art is a healthy outlet for her trauma. Cal discovers community when facing trans-dysphoria.
One of the big stories of the series was Eric's. Eric is openly gay to his family and college, and has been brought up through church. When his Pastor encourages him to get baptised, it sends Eric into a crisis. His church doesn't know he's gay, and he doesn't feel that he can be his true self there. Throughout the episodes, Eric receives a number of visions from God (depicted as a black woman), as well as talking to a homeless person in need of the church's Soup Kitchen - all pointing him towards the Church.
Eric decides to be baptised and as he's standing in the baptistry with the pastor, he feels he needs to voice something first. He 'comes out' to the congregation, and says that if they can accept him as a proud gay Christian man then he will get baptised, but if they cannot then he must leave. Nobody says anything, except for Eric's mother who proudly stands in support of her son.
In a tearful exit, Eric again meets with God. As She holds him, She gently tells him that he's done exactly what She asked, "you will change hearts and minds, and let everyone know that I love them for who they are". At the end of the series, Eric's pastor joins the school's fundraiser to explain that he wants to explore how to make the church more holistically inclusive.
Personally, I felt slightly uncomfortable with the scenes between 'God' and Eric, because it challenged my idea of who God is. Nonetheless, I thought it was so refreshing to see this important subject explored within popular media, and I was glad that it came to such a positive conclusion.
Sex Education is rated 18 so whilst not technically for young viewers, we know that young people will be watching it. If you know your young people are watching, you have an opportunity for healthy conversation. Ask questions about who their favourite characters are and why, what they think about the student's college environment, and create conversations about God making sex for marriage. Whilst as Christians we don't agree with some of the storylines, I don't think that should put a stop to the conversations we can have with young people. Whether we agree theologically or not, the storylines aren't just stories for many of our young people; it's their reality.


Rebecca Glover works in digital communications for a national youth work charity. She enjoys creating, watching a good boxset, and going on walks with her husband.
View full Profile