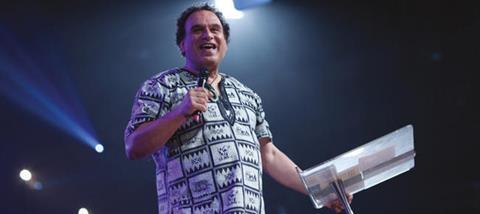 Mike Pilavachi
Co-founder and leader of Soul Survivor Mike Pilavachi is set to receive an MBE for his services to young people, having worked tireless to gather thousands of young people to worship Jesus every summer for 26 years. Mike set up Soul Survivor Watford church in 1993 alongside worship leader Matt Redman, and began running the five-day summer festival in the same year, steadily growing to see more than 30,000 young people in 2019 – it's final year. Mike took to Twitter to react to the exciting news, thanking the Soul Survivor team: "Although one of us gets the award I am so aware that as always it is a team thing."
Rose Hudson-Wilkin
British Anglican Bishop Rose Hudson-Wilkin – the first female black Church of England bishop – has been made an MBE for her services to the church and young people. The Bishop of Dover started off as a priest in Hackney before being appointed Chaplain to the Queen. Her work has focused on showing young people in minority ethnic backgrounds that they can be involved in church life. She said of the award: "I am surprised and deeply humbled. I am committed to giving and will continue to give my best in serving all those entrusted to my care."
Charlotte Hill
Charlotte is chief executive of the Step Up To Serve campaign, calling for youth social action to help young people get involved in activates that make a positive difference to others and the environment. She will be awarded an OBE for her work with Step Up To Serve, which runs the #iwill campaign to communicate with, connect and challenge organisations to embed youth social action into their practice. "Young people aren't just the leaders of tomorrow, they have the energy, talent and ideas to change the world today," Charlotte wrote on the #iwill website. "All the credit goes to them."
John Poyton
Youth worker John co-founded and is CEO of Redthread, a youth outreach charity based in London, set up in 1995 alongside a group of churches in Dulwich. He works with high-risk vulnerable children and young people, supporting them in breaking the cycle of violence. While they are no longer linked with churches, the charity is grounded in Christian ethos – believing in valuing every single young person. John wrote on Twitter that he was "honoured to accept an OBE" on behalf of Redthread.
Mete Coban
Mete Coban, the youngest ever elected Councillor in the London borough Hackney and Chair of the Skills, Economy and Growth Commission will receive an MBE through his work with My Life My Say, a charity he founded when he was just 20-years-old. My Life My Say is a youth-led party neutral charity which facilitates young people in getting involved in democracy. Mete said of the award: "I'm incredibly humbled to receive an MBE in the New Year Honours list. I'm proud of my team and thankful to everyone for their support."
Matthew Otubu
Youth Councillor, Member of Youth Parliament and Youth Leader Matthew Otubu has been awarded an MBE for his work with young people, having been both Youth Commissioner and Graduate Ambassador for the National Citizen Service, and Children's Champion for UNICEF UK. His work has taken him across the globe to France, Austria, Lithuania, Zimbabwe and South Africa. Matthew stopped the council from scrapping youth services in his home town of Newcastle, and campaigned to save a respite centre for disabled children.
David Burns
Author David Burns will be awarded an MBE for his services to young people after writing a guide for schools that offers strategies to support autistic pupils in the mainstream system. Born from his own experiences in the classroom, David's free resource champions the need to help autistic children grow and develop.
Check out the Government website for a full list of New Year's Honours winners.