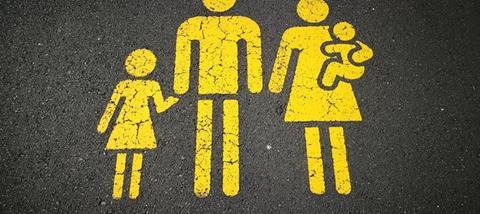 Families are hurting in our country. For many reasons including broken relationships, poverty, addiction, mental health and, a more visceral perpetrator of hurt, knife crime – currently a contentious topic of conversation not only in affected communities (considering the spate of recent incidents) but in the media as well and amongst the authorities.
The latest stats (as reported by the BBC) reveal that there were 39,818 knife crime offences in the 12 months ending September 2018. This is a two-thirds increase from the low-point in the year ending March 2014, when there were 23,945 offences, and is the highest number since comparable data was compiled.
How have we let it get this bad?

Firstly, it's important that when thinking about knife crime (or any crime, for that matter) we don't consider it in isolation from the other social struggles affecting communities today. Data collected by the Home Office a couple of years ago made it clear that knife crime is usually associated with poverty and often with poor mental health, failing schools and a lack of economic opportunity.
A 2007 report (Being tough on the causes of crime: Tackling family breakdown to prevent youth crime) by the Centre for Social Justice (CSJ) describes our country as a dysfunctional society that will breed criminality and as such, welfare reform should have at its heart the strengthening of families. Whilst there is a clear link between poverty and youth crime, the report cites Arthur (2007) who makes the important point that this (crime) is not just about poverty:
"Children from deprived backgrounds who avoided a criminal record had tended to enjoy good parental care and supervision in a less crowded home. The statistical connection between socioeconomic status and children's early offending behaviour was entirely mediated by family management practices."
In 2010, the then Work and Pensions Secretary Iain Duncan Smith cited that children from broken homes are nine times more likely to commit crimes. In a speech to counselling charity Relate, he said:
"All the evidence shows that family influences educational outcomes, job prospects, and even life expectancy. That means that positive, family-friendly policies can bring wide-ranging benefits to society. But when government abandons policies that support families, society can pay a heavy price. This is not some abstract debate. Family life affects all of us – what happens on our streets; in our communities; and in our economy."
Now, these stats are relevant if we believe that knife crime is being perpetrated by youths – and it's an easy assumption to make based on reports of drug disputes and the prolific gang culture that is taking over neighbourhoods as well as the high-profile knife-related deaths given status in media reports. Actually, the stats tell us that most perpetrators of knife crime are over 18. In the year to September 2018, 21,381 people were cautioned, reprimanded or convicted for carrying a knife in England and Wales, most of whom were adults. And yet doctors have said that the injuries they are treating are becoming more severe and the victims are getting younger, with increasing numbers of girls involved.
These are the facts. And yet what does any of this mean to a parent who has just lost a child to a prison cell or a violent crime?
Whether it's one youth or 100 youths (victims or perpetrators) surely our incentive to seek change should not be affected?
Speaking to Gary Young (who spent a year reporting on knife crime) writing for The Guardian, Dr Emer Sutherland (clinical director for emergency medicine at King's College Hospital in south London) said the emphasis should be on:
"…trying to make it not just about what happened with the stabbing on that day, but looking at the life story of the person in front of you, and the whole of the community in which that one day happened. It means looking at all the ways you can modify things in that life story, and that community, to make that day less likely to come."
We cannot ignore what is going on in our communities and whilst pondering how we got to this place of 'crisis' the question that everyone is trying to answer is: 'What do we do to make things better?'
BBC 1 recently hosted a debate about knife crime in London and what the solution might be. It's a factious issue; with community members feeling like the authorities are not doing enough to curb the so-called knife-crime epidemic in the city, and the authorities arguing that there are initiatives in place and it will take time to see the full benefit. People spoke emotively about charities not being supported, a lack of funding in youth clubs and family service, and then others on the panel wanted to know what parents are doing…to which one impassioned community worker responded:
"I know there's been a lot of… 'oh, parents need to search their bags' but those parents themselves are broken people. There's an expectation placed upon them that they can't fulfil. And instead of helping people meet their basic needs, we're busy asking them to feel self-actualised. There is a whole gap; a whole raft of things that are missing…"
Ultimately, on a panel consisting of government authorities, victims of knife crime, community members (youth and youth workers) and proactive organisations, a common perspective on 'solutions to knife crime' seemed to be: early intervention and community 'togetherness' accompanied by a plea for communities to take ownership of their people. But what does 'ownership' look like in a climate of austerity where budget cuts have put massive pressure on any support services still open to communities to meet burgeoning need with little financial support?
Realistically, to make any real change in communities, in society, there is a gaping 'support hole' that needs to be filled…
Might we consider the church as a resource? And could volunteer-led initiatives like Kids Matter, an early intervention parenting programme, run in partnership with the church, be part of a plan to tackle knife crime in our communities? If we agree with the evidence to suggest that family breakdown has a part to play in criminality, surely prioritising family health and well-being has to be part of the solution?
Twelve years ago, the Centre for Social Justice wrote (in the aforementioned report):
"All of our work has convinced us that if we really want to unlock this cycle of deprivation and do something to help the next generation of prisoners, we need to strengthen families and ensure children grow up in stable families. Improving the quality of the social structure of our lives is the key to tackling poverty so strengthening the welfare society must be at the centre of any process of renewal."
Clearly, more needs to be done.
This blog was originally published by Kids Matter. Kids Matter is a programme that engages with families and young children before crisis point – it strengthens families by giving mums and dads the tools to be competent, confident parents or caregivers. To get involved with our programme, as a volunteer or by financially supporting our programme, please contact us at info@kidsmatter.org.uk