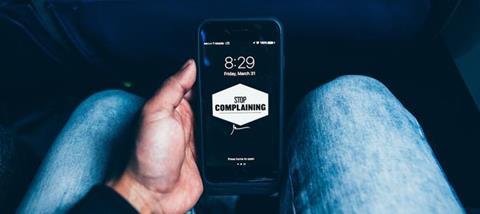 A few Lents ago, rather than giving up chocolate, alcohol or sweet treats, I opted to abstain from something which, at the time, seemed an easy option: being negative. No complaining, no speaking badly of anyone, no negativity in any form.
I'm ashamed to say that I failed miserably on the first day. And the second. And the third. Consciously monitoring and modifying my speech revealed just how engrained negativity was in my thoughts, language and actions. It also exposed the ease with which it often became my default position.
We probably all complain far more than we care to admit as, I'm sure, do our children and young people.
Sure, complaining can be cathartic and even liberating at times, but here are four reasons why it's actually incredibly bad for us.

It damages us physically
According to research from Stanford University, even half an hour of regular complaining can physically damage a person's brain. Negativity peels back neurons in the area of our brain (the hippocampus) that deals with problem solving, emotion, memory and knowledge (cognitive function).
When we complain, we are likely to become more aggravated, which, in turn, leads to a release of the stress hormone cortisol. This hormone floods our bloodstream each time we complain – rather than a good old rant making us feel better, it actually results in further frustration.
Even with my many failings, I felt much better at the end of my 40 days Lenten fast – situations weren't as stressful, people annoyed me far less and joyful anticipation replaced dread ahead of some future scenarios.
It distorts our thinking
Complaining ensures that we see the worst in a particular situation or person. It's very hard to then shift that perception. It makes things look worse than they actually are because negativity blinds any rational thought.
There was a song called 'Heaven's eyes' in the 1998 DreamWorks Pictures film The Prince of Egypt. It was about looking at situations and people through God's eyes rather than our own. I think we'd do well to apply heavenly eyes to the situations where often our preconditioned response is to whine. Let's not forget that the person who is doing our head in is infinitely precious to God – in fact their name is written on the palm of his hands (Isaiah 49:16).
Giving up being negative for Lent forced me to either shut my mouth or find the positive in situations and individuals. At one point during my 40 days a string of particularly terrible open mic performances certainly pushed my patience to the limit, but even here I managed to find good things to say!
It becomes a habit
Due partly to the physical damage in the brain, it is very easy for complaining to become a habit. The more we do it, the easier it becomes to do it again and before we know it we are champion moaners. It is hard to break a habit, but it is possible – my Lenten fast, while horribly flawed, certainly helped me on my journey. The more we actively stop ourselves from moaning and being negative, the more we will hopefully actively build good habits, seeing the best in people and finding glimpses of hope in the darkness.
It is unhelpful for those around us
When we complain, it doesn't just affect us; we're also bringing those around us down, pulling them into our despair. We have the opportunity to help others look through heavenly eyes, to point people away from our complaints to the God who makes beauty out of ugly things.
Although we may desperately want to moan, our positive comments can be vehicles of grace, helping reveal the infinite love and mercy that God has shown to us. As Pope Francis says in his book The Church of Mercy: "God's love for us is so great, so deep; it is an unfailing love, one which always takes us by the hand and supports us, lifts us up and leads us on." Do we not want those around us to know this love?
Life is really tough and I'm not suggesting that we should be perpetually happy; there is a biblical precedence for lament and crying out to God in the darkness. But, there are many times, certainly in my life when I complain unnecessarily and whinge about things which are incredibly unhelpful to those around me.
I felt like a new person at the end of Lent. Of course I still constantly slip into moaning and negativity but what if we all made a conscious effort to start looking with heavenly eyes a bit more? To do a bit less complaining? Maybe, just maybe, life might look a little bit better for you and for those around you. That's why I'm going to give it another go this Lent. Who's with me?