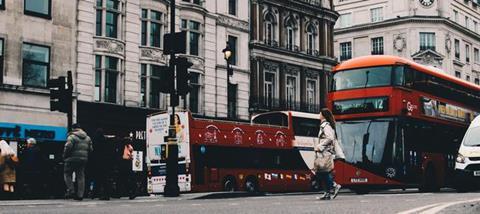 When my son was 3, he told my wife he was hungry. She wouldn't give him a snack so he threw a coffee cup on the floor. I came downstairs to crockery everywhere and my son crying. He said he was sorry. I turned his face toward mine, looked him in the eye and said: "I love you, I forgive you, it's going to be OK".
This is the beautiful message of Christianity. If we turn to God, that's what he does. God turns our face to his and says: "I love you, I forgive you and it's going to be OK".
I got the opportunity to speak this message of hope at Trafalgar Square as part of prayer rally called Standing Together. I spoke to victims of knife crime, church leaders from across denominations, Street Pastors and my son.
Immense experience and privilege to speak about the good news of Jesus in Trafalgar Square this afternoon. pic.twitter.com/SS7dpEd50O

— Phil Knox (@philknox) April 6, 2019
Standing Together was an event organised by Les Isaac, founder of Street Pastors, in response to the rising levels of violence across British cities but especially London. It was a moment for the church to unite, to stand with victims and communities and to pray together to see real change. There was a gathering of church leaders in St Martins in the Fields church before a two-hour rally. It was a combination of prayers, stories and messages giving hope for the future.
I work for the Evangelical Alliance, which is a unity movement aiming to bring the church together around mission and speak with one voice about one hope. We were a partner in the event.

When you're asked to speak in Trafalgar Square it's the kind of thing you don't say no to. But Saturday is a family day for the Knoxs. I preach most Sundays somewhere, so Saturdays are important. I asked the question: How can we do this as a family?
There are many disadvantages of growing up in a home of Christian ministry. Dad is away a lot at weekends. I don't earn as much as if I'd become a banker!
Massive Knox family day out to Trafalgar Square. We are off to a @StreetPastors rally to stand against violence. Prayers massively appreciated as I speak at the event. pic.twitter.com/sgyQvfwO8Q

— Phil Knox (@philknox) April 6, 2019
There's also some real positives. I took them partly to make the most of those.
We live in Birmingham so we had a nice day out on the train, which is very exciting for 6-year-old (and sometimes a 35-year-old!).
My wife and I were constantly explaining what was going on throughout the day. I think for him to see faith in action and church unity was important to us as parents.
The whole day was a range of emotions. The lowest points were stories of parents who had lost their children to knife crime. That was harrowing. As a parent you can't imagine that. There wasn't a heart in the crowd that wasn't softened by these tragic stories.
One of the most encouraging elements of the day was the display of unity. Where our nation is divided, this unity was extraordinary. I've not seen so many senior church people in one place. They were all in their clerical clothing, so you could tell. There were many dog collars! The Church is at its best when it's united, colourful and vibrant. That was moving, encouraging and inspiring. There was lots of lament but also a message of hope.
Our 6-year-old was in a place full of some of the most influential clergy in the country going for it in prayer. My hope, as a Dad who wants him to follow Jesus and have a positive picture of Church leaders, is that this day made an impression on him that would inspire him.
Amazing event from @StreetPastors who do some incredible work across the country being good news. Wonderful example of the church making a difference in society. pic.twitter.com/3rW82LUxc5

— Phil Knox (@philknox) April 6, 2019
I believe the real hope for our nation is Jesus and we have to hold two things in tension: action and speaking the gospel message of hope. I love that it was Street Pastors who organised Standing Together. They hold those two things together. This wasn't just a prayer gathering from a Church group standing on the side-lines. It was the Street Pastors, who are on the streets every week making a difference.
As youth, children' and families' workers we have to talk about the hope we have. The crack that runs through our communities and societies also runs through you and me. The solution to that is knowing Jesus for yourself. Standing Together was an important opportunity to talk about Jesus being at the very centre of our divided nation.
Days like this remind me that we are lost. On a national scale. On a generational scale. One in five young adults don't think life is worth living.
We can be people of hope, good news people in a bad news world. God came on a rescue mission to seek and save the lost, he died on a cross and rose again for us.
As Les Isaac said, we as a Church do so much but we're rubbish at PR. We run youth clubs and toddler groups and foodbanks. We help young people, vulnerable people, the elderly. We need to do those things and talk about Jesus. Standing Together was a word and deed event. It impacted our 6-year-old and it impacted me.

Click on the image to join Peace on our Streets, Premier's national campaign to pray against violence and knife crime.
Phil Knox is head of mission to young adults for the Evangelical Alliance.