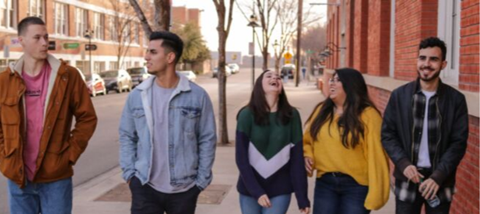 Results days for GCSEs and A Levels are fast approaching, and for young people and adults alike, they are days of great excitement, trepidation and challenge.
Over the years I've always ensured that I've been at my school for results day and I've seen elation and disappointment in equal measure among students and parents. I've seen students who have failed to get the grades they wanted feel like their whole life pathway has come crashing down, and I've seen students literally leaping with joy when they discover that all of their hard work has paid off.

When I was in sixth form, our exams officer made us label our own envelopes before we departed for exam leave. She ensured that on the inside of the top flap of the envelope we wrote: "Remember it's just a grade - I am still amazing no matter what." She did this so that we would see our reminder as we opened our results months later. It seems a bit cheesy looking back on it now, but I distinctly remember reading that reminder at 8am on results day and taking a deep breath before I removed the papers that held my future destiny on them.

GCSE and A Level results day have slightly different stresses and outcomes, although there are certain things to consider before and on both results days. Here are a few things that will hopefully be helpful for young people and parents/guardians:

Have a good breakfast
Don't start a stressful day on an empty stomach. It's going to be a strange atmosphere later as you collect your results and see friends that you haven't seen all summer. Prepare for this with a breakfast of champions. I recommend a full English Breakfast - but anything of substance will do. It's likely that you haven't slept much the night before so if coffee is your thing then go for it - but don't have too much!

Talk to your teachers
As a teacher I've always valued students coming to talk to me on results day. Your teacher will have already looked at your results and will have some extra knowledge on exam grade boundaries and other exciting data.
Over the years I've been able to have conversations with students where I've revealed to them that they are one mark below a grade boundary and have recommended that they request a remark. In some cases (not all) these remarks have resulted in students moving up a whole grade as that extra mark has been found. This tends to be more successful in the essay-based subjects.
Don't forget that your teacher will have been nervous about your results too and that they'll be wanting to celebrate or offer support at this time.

Be prepared
Whether you are going in for GCSE or A-Level results day, it's important that you walk in prepared. So often I am confronted with parents who ask a panicked "What now?" as their son or daughter looks despondent next to them. The more you can think and prepare in advance, the smoother the day will feel.

A plan could be as simple as this:

GCSE
Scenario A: I got the grades I needed to get back into college/sixth form and do the courses I wanted.
Plan: Amazing! Congratulations! Make sure you are registered with the college/sixth form and find out any induction dates that are coming up. If you haven't started already, why not plan ahead and do some summer reading(?!) in preparation for your courses.

Scenario B: I got grades good enough to get back into college/sixth form - but not good enough to do the course/s I wanted.
Plan: Congratulations! Try to book a meeting (ideally on results day) with the school/college to speak about other potential courses. Most schools/colleges handed out handbooks long ago that listed courses and admission requirements - see if you can find that in advance and highlight some back up courses that interest you. If a teacher of that course is available on results day go and speak to them.
Over the last decade I have admitted countless students to my A level course after a discussion on results day. One student I admitted to the course after they got an E at GCSE (my entry requirement was a B). After much discussion and an academic plan put in place I accepted the student on probation. This student didn't let me down and worked their socks off throughout the A Level course. Amazingly, they ended up with a B at A Level after all the computer data said they wouldn't achieve higher than an E. All of this happened because they came to see me on results day and were ready to show commitment and a willingness to achieve.

Scenario C: I didn't get the grades I needed to get into college/sixth form.
Plan: Speak to the college/sixth form ASAP, ideally in person. They will have careers advisors and their exam officer on hand to offer advice and have discussions with. You may still be offered a place, particularly if extenuating factors could have affected your exam performance.
Remember that if you are a full-time student with a grade 3 (or a D in the old-style GCSEs) in Maths and/or English you must re-sit your exams if you want to study at a school or college. If you are enrolled on a level 3 course at a college, sixth form or school, you will be able to re-sit your GCSE English and maths exams there, or arrangements will be made to sit them at a partner institution.

A Level
Most importantly it is worth checking UCAS Track before going to get your results. UCAS Track can go live at any point on results day (I've had students checking from midnight onwards) and although this won't tell you your results, it will tell you if you've made your university of choice. Knowing this before collecting results can help prepare you for what is coming next.

Scenario A: I got the grades I needed to into my University of choice.
Plan: Amazing! Congratulations! Use UCAS track to check whether you've got in to your preferred university and confirm your choice. Now is the time to start thinking about exciting prospects such as accommodation and finances…good luck!

Scenario B: I did much better than I expected.
Plan: First of all, you can still accept the university that you'd been hoping for if that course and location excites you. There is however, an option in UCAS track to look at adjustment to 'trade up' to a university course with higher entry requirements. If this looks promising, research the university you might want to adjust to and give them a call to talk about it. But remember that you should only confirm your new university in UCAS track if you're completely sure, because once you've done this your original offer is automatically cancelled.
I would recommend heading to the UCAS website to read this advice for what to do: https://www.ucas.com/undergraduate/results-confirmation-and-clearing/results/what-your-results-mean

Scenario C: I didn't get the grades to get into my University of choice.
Plan: Don't panic. Life isn't always easy, but this is what clearing is for on results day. Clearing is an increasingly popular route into university and it's a legitimate way to get onto top courses at brilliant universities. Don't forget that universities want you just as much as you want them.
If you've got the slightest inkling that you might take the clearing route it can help to do research prior to results day. UCAS has course vacancies online already so have a look at the list of courses and universities on offer. Make a list of their course codes and phone numbers so that you don't have to frantically google in a school hall where there is no Wifi or 4G.

It is worth remembering that university isn't the only route. Gap years are brilliant (I loved mine) and there is also the opportunity to get an apprenticeship, become an intern or move into full-time paid work.
Be open and honest and discuss all ideas with those whose opinion you trust and value.

Parents and guardians
There are several dos and don'ts parents/guardians should follow to ensure that, regardless of what grades your child gets, results day goes smoothly:

Do your own research
If your young person is anything like the thousands of students I've taught over the years they will probably struggle to communicate in moments of high stress. Having hundreds of questions thrown at them in the morning and in the case of disappointing results will only stress them further.
Do your own research of what to do so you can be supportive and prepared on the day. If your child doesn't want to re-sit their GCSEs, then it's time to make a plan that takes this into account. If they are really clear about a career path that they wish to take it is worth researching how this path can be achieved through alternative means, such as apprenticeships and entry-level routes.

Be calm
A tough one I know, but with your child being so tense the thing they need is a calm presence. If they get the grades they wanted - celebrate! If they are disappointed - don't lead with an angry shout - especially as they'll be surrounded by friends.
Be calm and constructive and remind them that you love them no matter what. Results day is a culmination of a number of years of (hopefully) hard work from your child and they need to be praised for all the effort they put in.

Don't rush
It's unlikely (especially in the case of A Levels) that all decisions need to be made immediately. It's a tough balance to get right as the sooner choices are made the better - but choices shouldn't be rushed. Even if it means you pop out for a coffee and chat before returning to talk to the college/sixth form, time and space can help.
If your child has entered clearing (which doesn't close until late October) make sure they have explored all potential options before making their final decision.

Be ready
There may be some things that need to be done after results day. Your child might need to phone around some universities, you may need to go to a university open day, you may need to book some meetings with careers and exams advisors. Make sure you have space and time to enable these to happen.

Don't post everything to Facebook
Be restrained and keep the hype to the family Whatsapp group.
Romans 8:38-29 says: "For I am convinced that neither death nor life, neither angels nor demons, neither the present nor the future, nor any powers, neither height nor depth, nor anything else in all creation, will be able to separate us from the love of God that is in Christ Jesus our Lord." As we prepare for results day it's worth adding 'exam results' into the list of things that are unable to separate us from the love of God and to remember that no matter the outcome of results day, we are loved unconditionally by our creator.
Tom Wade is head of philosophy and theology at Haileybury and Imperial Service College.