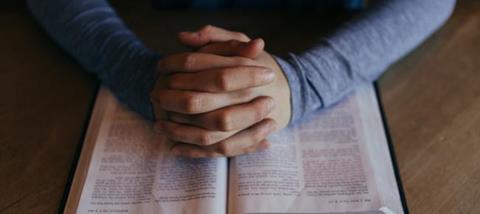 And our children and young people are no different. Younger children can struggle to understand what's going on and why they're no longer at nursery or school. Young people, just as they are starting to find their freedom and independence, are forced to stay in with their family. And then of course there are those children and young people for whom their home situation is far from safe.
As we live though the COVID-19 pandemic, many children and young people will be struggling to process thoughts and emotions. Providing ways for them to take time out to pray and chat with God can help them express those feelings and reach out to God for his help and comfort.
Often, bedtime can be quite a spiritual time for children. It's a good opportunity to chat and pray together. You don't need any fancy resources at this time, just a simple framework to help children process the day. 'Teaspoon prayers' can be a good starting point – using the abbreviation tsp, what does your child want to say thank you to God for? Where might they have to say sorry? And what do they want to ask God for (please)? This technique from Faith 5 develops the tsp idea, and could be good for older children.
A flick back through our Forming faith rituals articles should provide you with lots of different ways of praying with children of different ages. But what about young people? Often it can be more awkward to raise issues of faith in the home with teenagers; we sometimes find it easier just to avoid such bum-clenching moments. However, we are doing our young people a disservice if we don't help them pray and spend time with God. We don't need to do this together (though of course you can!). Here are some ideas:
If you have a high-traffic part of your house, which people pass through regularly, set up a prayer wall. Place some Post-it notes and pens next to a blank wall (or stick a large sheet of paper up if you're worried about your floral-print wallpaper). Encourage all the family to write brief prayers – concerns, requests, thanks – and stick them on the wall. You can all pray for whatever is up on the prayer wall as you walk past.
If you're lucky enough to have a room that isn't much used (a spare bedroom or dining room, for example), then set up some low-effort prayer activities in a corner of that room. If not, then have some activities ready in the kitchen or living room that teenagers can take to their bedrooms to do on their own. Get some inspiration from the Prayer Spaces in Schools website for ideas.
For all ages, you might want to take some time out together. If you can, do this at the same time each day or every other day. Get together in the same room, asking everyone to find a place where they are comfortable and not distracted. Play one or two reflective worship songs and listen quietly to them. Encourage the family to use the words of the song to pray, or to spend the time listening to God.
There are lots more ways to pray during these isolated times – praying with your wider family and with friends on video calls, keeping a prayer scrapbook or sending cards to others to let them know you're thinking of them. Let us know how you're doing this through our social media – Instagram, Twitter or Facebook.
Alex Taylor is resources editor for Premier Youth and Children's Work.