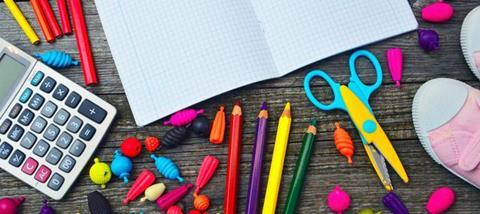 I never knew it but whenever my mother dragged us shoe shopping as a kid, she would hastily whisper to the shop assistant: "Please nothing pink, she has a little brother!"
We never struggled as a family but my parents were still careful to make sure hand-me-downs remained an option. After all children don't come cheap. The average cost of raising a child to 21 in the UK reached a whopping £231,843 in 2016.

According to new statistics, this generation of parents are even putting off buying new equipment for school. One in eleven of the nearly 3,000 parents surveyed by myvouchers.comsaid they would be buying items for the new school term on the very day that term started.
For many, they just found it difficult finding everything. We could read into this busier summer holidays, juggling work and childcare. It might be the closing of high street stores making it less convenient to find items.
Tragically, of those waiting until the start of the term, 30 per cent admitted it was because they simply couldn't afford to do so earlier. The parent's average spend on school equipment was £215. Added on top of the cost of entertainment and childcare over the holidays, and a month away from support like free school meals, August becomes a very expensive month for families already struggling financially.
The church has a place in supporting that. I doubt it needs explaining that we should be salt and light, help to the helpless, Jesus' hands and feet amongst those counting the pennies to make sure their child gets as much as they can out of school. Here are a few ideas you could run with parents in your area.
Set up a prayer circle
If you are concerned about the next generation, why not gather together with others who feel the same way and pray about it?
Your local school may be welcoming enough to let it happen in a spare classroom, workspace or large broom cupboard, if not a living room or church space works.
If you know Christian parents connected to the school, I'm sure they would be interested. Elderly members of the church, the vanguard prayer warriors, may also be keen to support in what way they can.
Obviously, avoid gossip-circle-style disclosure. Note prayer points (avoiding specifics that may be unhelpful or against safeguarding, like names), spend time listening and praying and note all that is prayed over. Reflect on previous prayer points at the start of each session to see where God might be moving.
If you can, a prayer box in a public space for pupils and parents may be appreciated.
Morning drop-in
If you have the capacity, and the right context, could you put the kettle on around school drop off or pick up time? Stressed parents and carers could pop in for a cuppa and a chance to offload with those who know exactly what they're going through.
We might not have answers to all of the problems that parents face, but providing a space for natural support groups may be the perfect place for issues to be raised and help to be offered.
Uniform swap
Kids grow out of uniform faster than they can blink, or at least than they can wear through the knees or elbows.
At the end of a term, could you open up your church hall and run a uniform swap shop?
Parents could bring along items that their little ones are not little enough for any more. Each item could be worth one token (I used tiddlywinks counters but anything would work). Each voucher could then be swapped for the next size up. Not only could it be a great money-saver but a chance for a good natter.
School kit list (the unofficial one)
I remember receiving a list as long as my arm of things I would "need" when I started secondary school. As the eldest child, my parents were not savvy to which items on the list were actually necessary. We learned quickly enough that I was never going to be seen dead in a school skirt; that a rugby shirt would go unwanted and specific "school regulation" socks were utter nonsense.
Four per cent of the parents in the survey said they planned on waiting until after term starts before buying all that their children needed. Half of these said it was because they wanted to see if their children would really need it.
What if you caught up with parents whose children were a few years older and asked them what their top tips would be if they could rewind a few years? What would they have saved money on? It could be a fun thing to chat over, and another great way of networking parents.