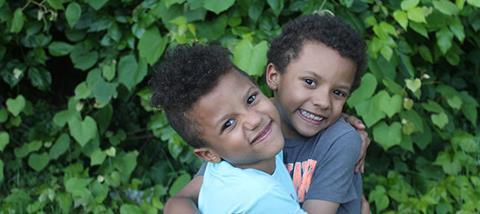 Did you know that over three-fifths (61%) of children waiting to be adopted in England are part of a sibling group? These children often wait longer to be placed in loving permanent homes, so there is a pressing need for adopters to come forward.
Children awaiting adoption have often experienced very difficult early starts and losses. They need unconditional love and support to help them form positive attachments and thrive in life. Having the comfort of being adopted alongside their siblings can help children, who may have already experienced significant trauma, to feel safe.
Mike*, a vicar, and his wife Mary* adopted brother and sister Samuel* and Erin* with Coram's East Midlands adoption team at the end of 2015. Marrying later in life, the couple knew they wanted to have a family together and felt adoption would be the best way for them to do this. Their Christian faith was also an important driver for them: "The Bible tells us that we're all adopted into God's family when we make our decision to follow Jesus – it seemed clear to us that we could offer that blessing of adoption to some children as well, and that this might well be a vocation for us."
Mike and Mary were open to the type of children they would adopt right at the start of the process, and were happy when their social worker first suggested siblings as an option, describing this as their "ideal scenario".
Mike said: "We knew that being able to provide a family for siblings would make sure that they could stay together. In addition, as slightly 'older' adopters, we felt that there was a lot to be gained from adopting siblings together rather than having to go through the whole process over again."
As the couple took their first steps in the adoption process, they began to fully understand what would be expected of them as adoptive parents. Mike said: "The children waiting for adoption often have extensive therapeutic needs, and more is needed from adoptive parents than perhaps people realise.
"The focus is always on the needs of the children and what parents will be able to offer in terms of skills and experiences to help them. We knew we wanted to be in a situation where we could use our skills and experiences to make a difference."
Mike recalls that the first few months of settling Samuel and Erin in were challenging. Erin, in particular, was struggling to adjust and process her early experiences, and there was some sibling rivalry as the children competed for attention.
Mike says they are lucky to have a network of support around them who have "helped the children to feel secure and settled, and part of a wider network of loving care" and that "Coram is always there for us with practical help and advice whenever we need them".
The family has received post-adoption support from Coram including therapeutic support sessions for Erin which Mike says have "greatly helped" her to cope with the trauma she has experienced.
Mike and Mary say that sibling adoption can present challenges but they feel it has more rewards: "It's about the relationship you build with them, and the one they build with each other. Staying together is good for them, and they can grow together and support each other."
The couple has plenty of advice for others considering adoption: "Keep talking to lots of other people, and each other. Through Coram we also read some great books on adoption. This all helps you put together the pieces of the jigsaw to get the best picture. You can then think 'can I see myself in the picture?' and sense if it's right for you.
"Take a long look at yourself and what you can offer a child or children, and don't be put off by what people may say about the challenges. Of course it's not plain sailing, but I think that most parents would say their life was turned upside down when their children arrived. It's great being a family, it's rewarding for all and we have so much fun and laughter."
Coram holds regular free adoption information sessions in London, Cambridgeshire and the East Midlands for anyone interested in finding out more about adoption.
Find out more at coramadoption.org.uk.
*Names have been changed to protect confidentiality