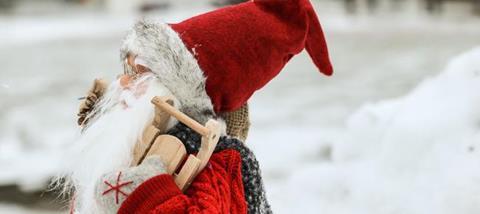 In a secular, post-Christian society like our own, children and young people seem to know less and less about the Christian story. But we might imagine that Christmas is at least one time of year when Jesus is central. Many children, after all, take part in nativity plays and others will attend school assemblies and church visits about the meaning of Christmas.
A study of 1,000 five to 12-year olds (by Brent Cross shopping centre), however, shows that children are remarkably confused about the reason for this season. 35 per cent of those surveyed believed that Jesus was born at the South Pole and 52 per cent thought that the 25 December was Santa's birthday. Asked about Jesus, one in five thought that he was a footballer for Chelsea FC, with others assuming he was an astronaut or X-Factor contestant.
Rediscovering the true meaning of Christmas
How as Christians might we respond to such findings? How can we help the nation's children rediscover the meaning of Christmas?
Christians can join with others in highlighting the need for children to know that Christmas celebrates the birth of Jesus. Just as the God-doubting Richard Dawkins thinks that for cultural reasons it's important for young people to read the King James Version of the Bible, so many outside the Church will agree that children need to know the significance of Christmas. Knowing that Christmas celebrates the birth of Jesus is essential for understanding our culture, our history and even our calendar (even if Jesus was born a few years before year 0!).
As parents, we can talk with schools about how Jesus fits into the religious studies curriculum. While this survey shows that many children are confused about the identity of Jesus, other research, such as Talking Jesus by the HOPE Revolution Partnership reveals that almost half of young people doubt that Jesus even lived. Given these findings, schools can take the opportunity of Christmas to emphasise that Jesus is a historical as well as a religious figure. We can also point out the confusion caused when the Nativity story becomes mixed with too many other elements, like Santa or alien visitors. While jazzing up the nativity story can be a cute way to engage parents, it risks placing the story in the realm of fantasy.
Being creative
Christians can themselves seek creative ways to share the story of Christmas with children and young people. Scripture Union are seeking to do this through their '95 Campaign', which aims to reach the 95 per cent of children and young people outside of the church. The campaign has produced a retelling of the Christmas story that Christians can order to give out to children in local communities. Another helpful set of resources are the videos on Christmas produced by Speak Life, with the video He Came Down a powerful testament to the impact of Jesus as God's presence among us.
The younger generations within the UK know less and less about the meaning of Christmas
Focusing Advent around Jesus
We can also choose to buy and give away Advent calendars that mark Christ's coming into the world, avoiding those that celebrate superheroes or kid's cartoon characters. And we can invite families to share our Christmas services, giving them an opportunity to revisit the story of God's coming to us in Jesus.
Christians can also seek to orientate Advent and Christmas around the person of Jesus, and so witness to friends and families what Christmas is all about. This means resisting treating the season as a carnival of consumerism or a festival of family, and instead focusing on the coming of Christ. Whatever our views on including Santa within the home, we need to make sure that we point to God as the ultimate gift-giver, the Father who gives his Son, and sends the Spirit, to save and transform us.
Christian parents can seek to draw our children into Advent as a time of preparation for the coming of Jesus. Families can adopt a 'Jesse tree' in the weeks leading up to Christmas, read a daily devotional or put together Christmas hampers for those in need. At Christmas itself, taking time to serve others – such as helping at a homeless shelter – can remind us of our Lord's radical self-giving in the incarnation.
Called to mission
In whatever ways we respond to it, this research reminds us that the younger generations within the UK know less and less about the meaning of Christmas. It calls us to the task of mission. As the angels announced to the shepherds on the hills outside Bethlehem, so too we're called to proclaim that, "a Saviour has been born to you, he is Christ the Lord" (Luke 2:11b).
To get a free copy of Premier Youth and Children's Work click here.