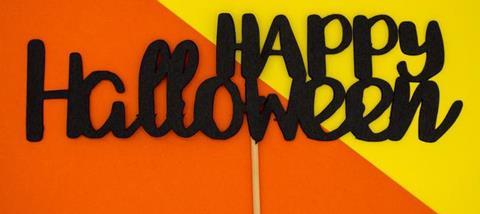 Posting on Instagram, the 22-year-old asked for costume inspiration for October 31st. While the majority of her 23 million followers thought nothing of it, a small minority questioned her – one even dubbing her a 'fake' in her faith.
"Aren't you a Christian?" asked one unimpressed fan, while another replied (simply and perhaps harshly): "FAKE CHRISTIAN."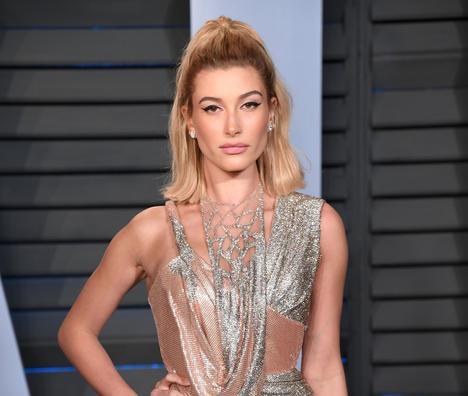 Hailey, brought up in the Evangelical church and a regular attendee of Hillsong Church NYC, has previously championed ensuring her career is ultimately "for Jesus" and spoke openly about abstaining from sex until marrying Bieber. With that in mind, perhaps it's no surprise many fans were confused.
While it seems her following are happy to let her be when it comes to modelling in Calvin Klein underwear and posing scantily clothed on social media – dressing up for Halloween was just one step too far.
"Yes, I still dress up for Halloween. Our kids are going to celebrate too," she responded directly to the hate comments, before reposting a comment from Hillsong Pastor Nathan Finochio, detailing many reasons for celebrating the pagan festival.
What did he have to say about it? Essentially, that while the tradition of Halloween is in no doubt pagan, it doesn't mean that we can't "collect candy for the glory of God and in celebration of the Saints".
Nathan wanted his followers to know that we can "dress up however we like" as long as our hearts are in the right place – oh, and provided we know all about the (condensed Instagram-friendly version of) the holiday's history too.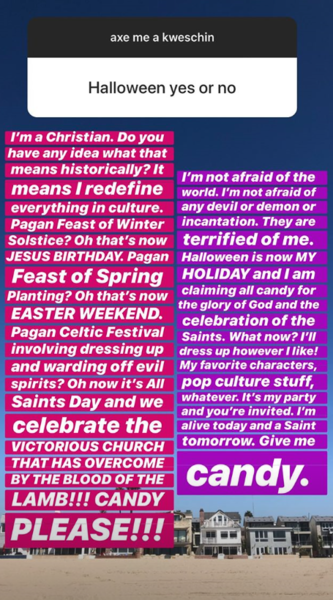 "I'm a Christian. Do you have any idea what that means historically?" he asked his following. "It means I redefine everything in culture…A Pagan Celtic festival involving dressing up and warding off evil spirits? Oh now it's All Saints Day and we celebrate the victorious church that has overcome by the blood of the lamb!
"…Halloween is now my holiday and I am claiming all the candy for the glory of God and the celebration of the Saints…I'll dress up however I like. My favourite characters, pop culture stuff, whatever I want…I'm alive today and a Saint tomorrow. Give me the candy."
Nathan Finochio's ten reasons to celebrate Halloween with your children:
Don't instil fear of the world
Don't teach them that the world has more fun
Don't teach them superstition
Don't teach isolationism
Don't teach them a lack of faith
Teach them common grace – candy is from God and that to the pure, all things are pure
Teach them redemptive motif – that we reinterpret culture and give it new meaning
Teach them that demonic works are by wilful agreement, not accidental consumption
Teach them to be in but not of, not out and not of [the world]
Still critique loudly what you see – make them brave and discerning, not scared and superstitious
Adding that he's neither "afraid of the world" or any demon or evil spirit, Nathan explained that there's a spiritual darkness in "everything" and that while we can acknowledge that, it shouldn't stop anyone from celebrating Halloween within the right context.
"Yes there are witches and pagans that consider Halloween a high festival," he continued. "But Christianity, rather than shying away from the roots [of these festivals], baptised them and gave them new meaning.
"…All Hallows Eve is when the liturgical celebration begins – this is the Christian tradition. We gave the fascination with death a new meaning: an awareness and thankfulness for the great Saints who went before us." Quoting from the Oxford Dictionary, Nathan added: "Churches were celebrating All Saints on November 1st…to coincide or replace the Celtic festival of Samhain."
He urges parents to talk to their children about this history before taking part: "If you're nervous, don't participate. But kids don't learn because parents don't talk. All of life should be a running commentary for Christian parents.
"Don't teach your children double mindedness, anxiety and doubt [by being silent]. Romans 14 teaches us to be fully convinced and do everything in faith. If you have a weak conscience, you abstain. If you have a strong faith, you eat and drink. Don't stay weak."
What has this got to do with Halloween? Well, Nathan points out that having faith in God means having the power to redefine all things – and that includes a pagan-centred festival that champions eating an obscene amount of sweets in one evening.
"Christianity doesn't stop feats, it reinterprets them," he concludes. "God never put an end to the feats of Israel because of excesses. Paul didn't shut down prophecy because of abuse of these gifts.
"Christianity has this ability to live in the world but not be of it – by importing strength and stability and meaning. If there's joy and mirth, we repurpose it – because joy belongs to us."
Jess Lester is deputy editor of Premier Youth and Children's Work.