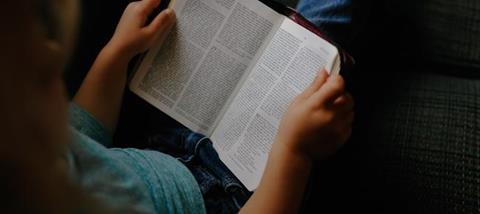 It's perhaps a cliché to say that the world is radically changing due to the coronavirus. But it is no less true for it. And while in the medium and longer term we cannot predict how this will change our society, we know already the consequences for the short term; social isolation, economic hardship, pressure on families as schools shut and an overstretched NHS.
From this Sunday, churches will cease to gather for worship. Although many will offer online services, taking part in virtual worship is a very different experience from spending time in the bodily presence of others.
But even in the midst of this crisis, we can reflect on God's call to shape our lives after the way of Jesus. And for families with children, the increasing time spent together is an opportunity to explore the way of the kingdom in the life of the home.
In this time of social distancing, here are four suggestions for families seeking to stay faithful during the coronavirus:
1. Keep the focus on God's faithful love
Families can explore together how even in the midst of uncertainty and change, God's love remains. As Psalm 46 puts it, God remains our "refuge and strength", and so we need not fear "though the earth should change, though the mountains shake in the heart of the sea…" (v1-2). We've not seen mountains shake in such a way for quite some time, but when they do it forces us to think about what's really important. At home together, we can explore with our children that our ultimate hope lies not in school grades, holidays, secure jobs, or even our health, but in Jesus. Nothing can separate us from the love of Jesus, the Lord who died for us and continues to intercede for us (Romans 8:31-39).
2. Don't give up Sunday worship
Explore ways to worship together with the wider church this Sunday. In some cases, this might mean drawing on resources provided by a church or denomination. In other cases, it could mean live-streaming a church service into the home or tuning in to Premier Christian Radio. By engaging in some kind of worship this Sunday, families are modelling their commitment to worshipping with the wider people of God, at the time if not the place where Christians across the world gather. Perhaps this is an opportunity too to explore as a family why church-going is a vital part of faith, and how the seemingly smallest person in the church still contributes to its health (1 Corinthians 12:12-27)! Church is important even when we're not able to be together.
3. Introduce regular times of family worship
Parents can explore simple ways to pray and read the Bible regularly with their children. Family worship is something that many Christian parents find difficult, but a period of isolation together at home is a perfect time to begin! While this may be intimidating to some, there are a huge number of ways to worship as a family, and it's important to find what works within your home. We're blessed today to have a range of organisations that can help parents with this, including Parenting for Faith and The Kitchen Table Project. My book Together with God: An Introduction to Family Worship (co-written with Gareth Crispin) shares how 15 different families across the UK pursue family worship, and could also be a useful guide for those seeking to begin.
4. Include your children when you serve your neighbours
Finally, families can explore together how to serve their local communities. As well as praying for neighbours and keeping in touch with those who we know are affected, we can also offer practical help (for some ideas, see here and here). A time of crisis is an opportunity to demonstrate the love of God, and we can explore how best to do that with our children.
When church gatherings begin again, it'll be great to spend time again with the people of God in all their colour and variety. Families need the church! But in the meantime, this period of social distancing gives us a chance to reflect the life of the kingdom within our homes.
Ed Mackenzie is a Discipleship Development Officer for the Methodist Church, an Associate Lecturer at Cliff College, and co-host of the Together with God podcast.