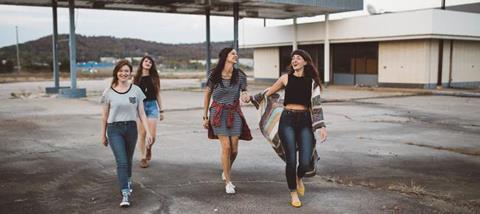 On Wednesday, Girlguiding released its annual Girls' Attitudes survey. The biggest survey of its kind in the UK, it asked the opinions of just under 2,000 women aged 7 to 21 (not just members of Girlguiding).
As it gives an insight into how girls feel about a range of issues, emerging pressures and what they need to support their happiness, wellbeing and opportunities in life, it's important that we listen to their voices.
At Girls' Brigade Ministries – a global movement celebrating 125 years of mission and ministry among girls – we're excited about any opportunity to amplify their voices.
So what do girls really want?
We want to live in a culture that nurtures our worth and value
Many young women's sense of wellbeing is deteriorating. Only 25 per cent say they're very happy (compared to 41 per cent in 2009). Overall the youngest girls (7 to 10) are mostly happy with how they look. Unsurprisingly body image satisfaction declines as girls reach puberty, are exposed to toxic media messages and start using social media platforms. And many feel their unhappiness isn't heard. Four-fifths believe that adults don't understand the pressure they're facing like exams and social media.

We want to feel safe
Alarmingly, the proportion of girls feeling unsafe outside their homes is high. More than half (13 to 21s) have felt unsafe walking home (63 per cent), experienced street harassment (52 per cent) and feel unsafe using public transport (47 per cent). Higher numbers of girls have also experienced unkind, threatening and negative behaviour online.
If you work with girls then you'll know that they're fierce and bold advocates for change
Although this generation feel unsafe, they're more willing to stand up for themselves. Today they're more likely to report abuse than ignore it.
We aspire to be leaders
Girls' Brigade is encouraged that 53 per cent of girls (7 to 10) want to be leaders in their chosen job. In a world that too often brands girls with leadership skills as 'bossy', this needs to be cultivated.
However, these aspirations decline as girls grow older. 53 per cent of 11 to 21s want to be a leader compared to 63 per cent in 2016. This may be explained by a reluctance to face some of the challenges that female leaders experience such as harassment and misogynistic abuse. Girls still face a number of barriers if they want to succeed; in fact over two-thirds of young women (11 to 21) still think that women don't have the same opportunities as men.
Things need to change and we'll make it happen
If you work with girls then you'll know that they're fierce and bold advocates for change. In Girls' Brigade, we have so many generation-shapers and hope-bringers pioneering transformation in their communities. The Girls' Attitudes survey reveals that one-third of girls and young women (11 to 21) have spoken up on an issue they care about and two-thirds of those believe their voice was heard and that it made a difference.
So what do girls want? It's simple - to feel respected, valued and safe so they can flourish and be all they've been created to be.
This is a church issue
It's important that as followers of Jesus, we listen as well as respond with action. The Church shouldn't be paralysed by these negative statistics but see it as an opportunity to share a more hope-filled narrative for all young people. Here are some practical ways that Girls' Brigade suggests to turn up the volume of hope for girls:
Listen to the hopes and concerns of girls
By giving girls a platform to tell their stories, whether it's in a youth group or online, we're improving their confidence and demonstrating that we believe their experiences and opinions are of value and importance. But, equally important, we're also opening ourselves up to being inspired and transformed by them too.
Create a culture of worth
Some girls are telling us they don't feel valued in society. We need to create a culture of worth for all of God's people regardless of gender. After all, Jesus loved and accepted people including women. Read here to find out if you may be sexist and don't know it.
Continue to reach young people in relevant ways
Girls' Brigade Ministries believes in the value of gender-specific groups and has developed faith-based, fun and innovative programme materials for girls specifically helping them to build their self-esteem in Christ each week. GB leaders are equipping girls to navigate this confusing culture, as well as helping them to cultivate courage and resilience. Over the past 125 years, that's five generations of women investing in the next generation of girls.
Don't perceive this as a 'girl problem'
When half the Church is limited and losing confidence, everyone's affected it's everyone's problem.
These statistics and prevailing attitudes hurt boys and men too. Our popular culture is also communicating a toxic version of masculinity to boys. Boys are learning through media and the proliferation of pornography to view and treat girls as sex objects.
Men too have an important role to play in the way that they speak and treat the girls and women around them.
Let's continue to equip young people to be a voice of hope, to challenge injustice, and to build a fairer society in the UK and across the world. Let's continue to work together to turn up the volume of Gospel hope among girls.