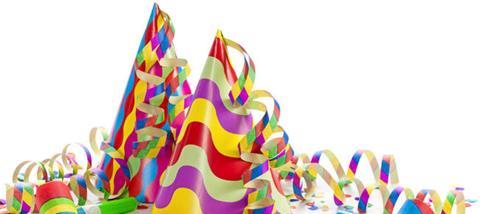 New year isn't actually a thing, unless you make it one. Nothing, except the calendar year, really starts in January. So, this might be one ritual you want to leave, or it could be a time where you create something meaningful to do together with your family. Here are a few ideas on things you could consider.
Thanks for the past year
The change of date gives us an excuse to look back over the year and remember all the good things. We can thank God for them, and all the daily and weekly blessings we sometimes overlook. You could do this by making a huge poster with THANKS in the middle and have everyone graffiti their ideas in words or pictures or symbols.
We have a 'thanks jar' into which we put pieces of paper during the year as reminders of things we are thankful for. On New Year's Eve, we sometimes take them all out and read them, thanking God for the many good things that happened during the year.
Forgiving what is past
There's something quite futile about moving into something new while still carrying the baggage of the last era. The Bible is quite clear about forgiveness and our responsibility to give it out to others. If we don't forgive people because they've not said sorry, we are only really hurting ourselves, as unforgiveness leads to bitterness and is too heavy a weight for us to bear and live healthy lives.
And it's not just forgiving others. We often need to forgive ourselves for our failures and really accept the freedom God gives us when he forgives us completely.
Why not create a simple, silent opportunity to leave the past behind? You could wash your hands with water as a symbol of Jesus washing your hearts clean. ("Who may ascend the mountain of the Lord? … The one who has clean hands and a pure heart" Psalm 24:3-4.) Another option is to write names or pictures in a tray of sand or rice, then shake it to remove them.
Dream for the future
One of the verses I love is the one that says God will do "more than we ask or imagine" (Ephesians 3:20). I love it partly because children are so good at imagining things, and this is one of the great wonders they bring to family faith. They are unhindered by disappointment and can honestly pray huge prayers to God.
New year is a fun time to dream big. Perhaps draw a cross on a large piece of paper and write a category in each (eg family, work / school, church, community) or perhaps the name of each person in your family in a different section. Then work together to dream some big dreams for the year ahead. What would you like to be thanking God for this time next year? Then offer those dreams to God, asking him to do more than you've even imagined!
Listening to God
Jesus said he only did what he saw the Father doing. This is probably why he spent lots of time in prayer before his big ministry moments. New year is a great time to ask God what season you're in, what he's doing with you at the moment, and to align yourselves with what he says.
You might want to do this individually, but it's great to spend time together listening to God, or as Rachel Turner puts it in Parenting Children for a Life of Faith, "catching". She has a whole section on catching that I won't repeat as it's definitely worth getting the book, but what we do when we want to listen to God is ask a specific question, then sit quietly for about 10-30 seconds (my children are four and six), then share what came into our heads. Often, it's quite random, so we ask what that might mean, and my girls usually have ideas about that. Another thing I love to have is a Bible verse or passage for the year ahead. Again, this is something you could do individually or together, and perhaps make something to remind you of it during the year. I'm currently into doing Bible lettering, which is just writing Bible verses but with pretty lettering, so I may do something like that. You could paint it onto a canvas board or use fabric paints on a piece of cloth, or make something on the computer with a photograph and print it; whatever works for your family.
Make a resolution
Lastly, although I'm not a big fan of new year's resolutions, I wonder if new year is a good time to make some plans about how we are going to grow in our faith, both individually and as a family. Maybe there is a book of the Bible you'd like to read this year, or perhaps you can plan to research Bibles and get everyone a new one as an Easter present. Maybe you'd like to plan more creative times of prayer together or different ways to bless others. You could look to mark seasons of the year, including various Church and Jewish holy times, such as Lent or Passover. I read or reread a Christian parenting book each year, so maybe ask friends for a good recommendation.
Or maybe it's something as simple as creating a 'thanks jar' so you can create more of a culture of thankfulness together. We made one by sticking ribbons round a large empty jar and attaching paper to the top. Each time we are thankful for something, however large or small, we draw or write it onto a piece of paper and pop it in the jar. If you do this, you're bound to have a huge pile of thanks to bring to God by the next new year.