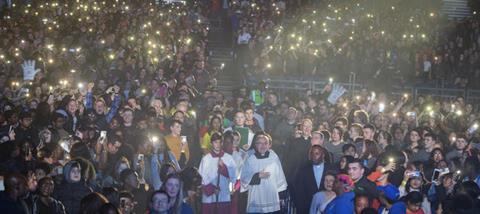 I'm still buzzing from Flame 2019 and I wish I didn't have to wait another two years for the next one. Not only because two years seems too long, but because I'll also be two years further away from the target age (but let's not talk about that!).
Flame, organised by CYMFed, is put on for Catholic teenagers across the country to come together and simply feel enthusiastic about their faith, and boy did they feel that!
Over 8000 young people descended on The SSE Arena, Wembley, and were greeted by pumping music from all over the world, presented by Premier Gospel DJs and presenters, Candice McKenzie and Ibe 'Giantkiller'. By the end of their set the Arena was hot, phone lights were in the air and the crowd was buzzing…And this was all before the event had even started!
And then the treats just kept on rolling.

The theme this year was Significance. In a world where it's easy to feel constrained to measure self-esteem in Twitter and Instagram likes, responses to Facebook status updates and Snapchat conversations, the young people were challenged to think about how they determine whether they are significant or not and how they value their worth.
Throughout the day, there was everything from poignant drama reflections from Rise Theatre, banging music from Guvna B, hilarious and uplifting words from Robert Madu, praise and worship from Tim Hughes and did I mention, a message from Pope Francis!
He prayed that each person present be strengthened in faith to see in Jesus Christ the one who alone reveals the meaning of their lives, and who inflames their hearts to share with others the joy of meeting him, for "where your treasure is, there your hearts will be also" (Matthew 6:21), as written by Cardinal Pieto Parolin, Secretary of State.
The young people gave a huge round of applause to husband and wife duo, Isaac (aka Guvna B) and Emma Borquaye (from girlgotfaith.com) who spoke at length about their own insecurities at certain points of their lives – Emma feeling like she was always the slightly boring "good girl" with no interesting story to tell and Isaac wanting to be like the "bad boys" because they had all the money and the girls.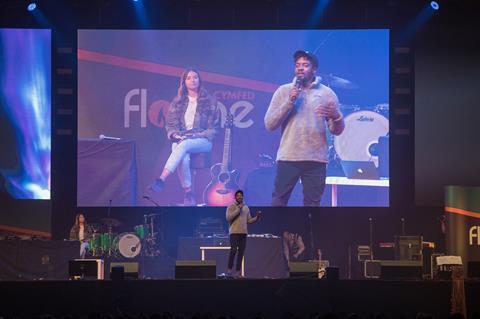 They admitted that had they met as teenagers, they probably wouldn't have got on! The way they bounced off each other, speaking with such clarity and honesty, really caused people to think about how they measure their significance.
Towards the end of the day, the presence of the Holy Spirit was electric as a 100-piece gospel choir, made up of singers from schools across South London, led by choir director Natalie Christian-John, sang Blinded by Your Grace and Amazing Grace, as a stream of priests processed through the Arena onto the stage for a time of liturgy.
Then over 8000 people fell silent with reverence and prayer as the Blessed Sacrament was brought to the stage.
As the day drew to an end and people started to think about the long journey home, the chair of CYMFed, Fr Dermott Donnelly (who many probably realise looks and sounds familiar but can't quite work out why!), thanked all involved and attending and handed over to Tim Hughes, who made sure everyone got one last burst of worship and joyful praise to see them through their journey home and beyond.
Since the event, a mother of an attendee has already got in touch with CYMFed to thank them, as her son who self-harms, is on medication for depression and describes himself as a 'mistake' and 'worthless', returned home to say: "Mum, I am not a mistake. I just have to find what it is that God has made me for".