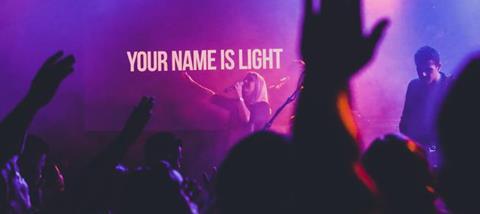 Life is no longer normal for any of us. The things that we usually do to get balance in our lives – grabbing a coffee with a friend, reading the Bible on our commute, worshipping on our own in the kitchen – are gone for the moment. As is gathering together at church, encouraging our friends, handing our children over to the amazing kids' teams, receiving teaching and prayer, fellowship…
But what if all this 'can't' is actually an opportunity?
I was out on a run at the beginning of lockdown and felt God clearly say to me: "Live as children of the light". I figured that sounded like a great idea, but it didn't really have a context. I went home and looked it up in the Bible and I found three key things:
"You are children of the light and children of the day. We do not belong to night or the darkness" (1 Thessalonians 5:5).
"For you were once darkness, but now you are light in the LORD. Live as children of light" (Ephesians 5:8).
"You are the light of the world. A town built on a hill cannot be hidden. Neither do people light a lamp and put it under a bowl. Instead they put it on its stand and it gives light to everyone in the house. In the same way let your light shine before others so they may see your good deeds and glorify your father in heaven" (Mathew 5:14-16).
It seems to me that we have a choice to make here. We can choose to stand out and be different, to be bright and shining beacons full of hope, or, not.
Be light in the darkness
Our world is dark right now. Our own households need us. Our own children need us, the young people we are responsible for and in relationship with need us. Even if we are on lockdown and we cannot run our usual events, they need us. So, how are we going to be light in this darkness?
The first thing that strikes me is that to be a light to anyone, we need to receive light from Jesus. It can be so easy if we are lucky enough to go to a church that we enjoy, for our faith to be carried by that church. We turn up on Sunday mornings feeling a bit dry and frazzled, we engage in the worship, teaching and fellowship, and leave feeling lifted.
How can we do that for ourselves? How can we be responsible for maintaining our light? Luke tells us: "Your eye is the lamp of your body. When your eyes are healthy, your whole body is full of light." (Luke 11:14)
We need to watch what we look at. I don't know about you but my social media feed is a mixed bag right now, and the news is terrifying, but the Bible contains the consistency I crave. That's where there is peace and strength and promise.
Get to know God
What if we use this time to really deepen our relationship with God? What if we step up reading the bible? And instead of just reading it on our, find own find a way to read it with our families? How can we talk about Jesus with our housemates, our kids?
And what about how we pray? Maybe step this up too. Perhaps get a journal, and every day find something to be thankful for. But also, this is a really good place to be real with Jesus. Tell him when you're feeling desperate, and scared, or crowded and like you need to be on your own.
One of my daughters was having a cry yesterday, telling me how much she was missing her friends. After a while I reminded her that while her friends aren't with her just now, Jesus actually is. It dawned on me that the same is true for us. This is not just a platitude we give to small children, it's a reality.
Talk to Jesus. Cry out to him. Show your children how to pray. Pray for everything. Write down your prayers and tick them when you see answers. Give God the glory and build your family's faith.
Because Jesus died and rose again, he is with us today. He is with us in our isolation, our loneliness, our fear and our grief. We need to fix our eyes upon him. There is so much that we cannot control right now, but we can control what we look at.
Let's look at the news and social media less, but look to Jesus more. And look at the people we live with more. What do they need from us today? How can we share God's light with them? Which bit of darkness can we shine God's light of love onto?
When your light is bright because you have spent time with Jesus, and received what you need from him, lift it up so that it gives light to everyone in the house. If it's a difficult teenager, ask God to show you how to love them. If it's a grumpy spouse, ask God to show you how to encourage them. If it's a toddler having a tantrum, ask the Lord for patience, and a sense of humour! If it's a housemate who you need space from, ask the Lord to provide it.
Draw near to him, and he will draw near to you.
Gen Rylett is a mother of four and on the leadership of her local church.