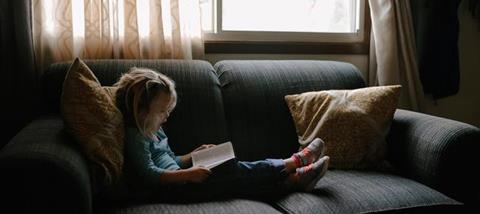 Sticking to a schedule and routine can make it a lot easier to be productive. It's also important to remember that we don't have to do everything all of the time! It's totally fine to take some time out and relax sometimes; that's just as important as getting things done.
Millie, 15
For me, there are some positives to home-schooling. I can do my school work in my comfy clothes or pyjamas and the teachers won't know. And I can get some good lie-ins now! This may sound fun, but it can be tough sometimes as I have younger siblings with a different timetable to me. This interferes with my schedule and results in me missing out on a lot. Also, I find it really weird not seeing my friends around, it makes it feel like they are not there anymore.
Yet, I still have hope in God to carry me through this busy time, I know that God has a plan for after this and this is happening for a reason. This experience will end, but we have to have faith in God to carry us through it. Some verses I like to refer to in this time are:
"Don't be afraid just stand where you are and watch, and you will see the wonderful way the Lord will rescue you today" (Exodus 14:13).
"You faithfully answer our prayers with awesome deeds, O God our Saviour. You are the hope of everyone on earth" (Psalm 65:5).
"But those who hope in the lord will renew their strength. They will soar on wings like eagles; they will run and not grow weary; they will walk and not be faint" (Isaiah 40:31).
"'For I know the plans I have for you' declares the Lord, 'plans to prosper you and not harm you, plans to give you hope for the future'" (Jeremiah 29:11).
"God is the only one who can make the valley of trouble a door of hope" (Hosea 2:15).
Phoebe, 12
My favourite verse is Philippians 4:6-7: "Tell God what you need and thank him for all that he has done for you. You don't need to worry but pray instead. Then you will experience the peace of God. His peace will guard your heart and mind as you live in Christ Jesus."
This has really helped me during this time because there's no point worrying about the Coronavirus. God is with you. God will protect you so keep praying and don't worry. God loves us!
Naomi-Grace, 9
With news of the lockdown came many pros and cons, learning to adapt to this new way of living for a while. At first, it was extremely boring and overwhelming with the amount of school work we were set, but over time getting into a routine and being able to get more things done was easier.
Depending on how your school works, I would try to follow your normal school time table and complete the work in the allocated time. If, for some reason, you haven't been set anything for that subject or have spare time, try to finish the stuff that's due first.
Remember:
Set a starting time
Get into routine
Be responsible
This way the work hopefully won't be too much and you won't be behind when we go back to school.
Rachel, 15
During this unusual time, I have learnt that it is not all bad. Something like reading your Bible or daily devotional is all it takes to boost your mood and friendship with God.
Since we have the word of God, we can pray and know an answer is coming. Even if it isn't the answer we were looking for, we know good comes out of every situation.
Psalm 143:1 says: "Hear my prayer, O Lord; listen to my plea! Answer me because you are faithful and righteous." God hears us. And no matter what, he is faithful and righteous.
I have also enjoyed my time at home, reading my daily devotional plan on the YouVersion Bible app together with other people from our church youth group. It is an easy thing to get used to doing every day and is easy to understand. I have loved my time off, because it has allowed me to connect more with my Father in heaven.
Kai, 11