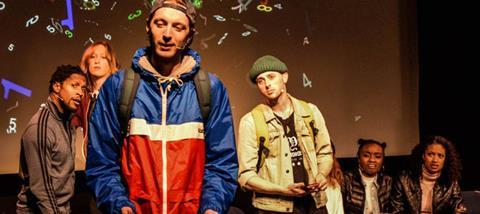 Pure Creative Arts was set up to reach teenagers caught in an identity crisis, to help them discover who they were uniquely created to be so that individual lives and communities are transformed. Through high-impact productions and workshops, we want every young person to know their unique worth and to see them live out their God-given purpose in life.
A few years ago, towards the end of one of the theatre productions that we performed at a school on sex and relationships, a girl ran out of the room in floods of tears. She was obviously affected by the theme we were addressing in the production. It seemed that what we were sharing had resonated with her and caused this reaction of utter devastation.
A teacher at the school asked Tamsin Evans, the founder of Pure Creative Arts, if she could help. So between them they tried to console this girl's gut-wrenching sobs. But after Tamsin suggested that it might help to tell them what was going on, the girl's only words were: "Why? It won't change anything." This lay heavy in the air, as the heart-breaking silence of hopelessness filled the room.
Slowly, after Tamsin began to tell her stories of situations that had looked hopeless and how she's seen talking about it help, the girl began to disclose what had been going on in her life and what it was that she had been unable to talk about before. As she did this, it was like a weight was lifted. Even though the circumstances of her situation at that point hadn't changed, there was something in the sharing of her burden that cut into the darkness and gave her that lightness.
Pure Creative Arts grew out of Tamsin's own experience as a teenager, when she saw friends struggling with identity, low self-esteem, eating disorders and feeling unable to talk about what they were going through. This, alongside seeing how theatre can help to open up difficult issues, was the heart out of which Pure Creative Arts began.
Through the mentoring courses that we offer alongside our productions, we give the long-term support needed to begin to address those prevalent struggles that so many teenagers face. There is power in seeing a character or story that tells you that you are not alone in what you're going through. Through this tool, we open up conversations that might not otherwise have the space to come to light.
We've seen breakthrough over the years in the lives of teenagers across Liverpool, and we know that that is not only for the few. We've seen God open doors in New York and London for our newly developed rap musical The rating game, which looks at the crisis of identity that so many are facing. We've been able to get into schools and youth mentoring programmes nationwide. This is a huge undertaking and there is so much we need to see come into place over the next few months, particularly with increased financial provision. The rating game will be touring UK schools from September.
How to meet young people where they're at
Teenagers struggle to see a situation they're in from an objective standpoint. It is often hard to see the consequences of choices while we're growing up and the effects of those choices last into adulthood. Theatre is a way for teenagers to look at situations or choices and see the potential impact in an objective way.
What young people face is ever-evolving and can be quite different from what we faced, so we must not be afraid to learn the impact of social media and the pros and cons of that dynamic. The language and world we explore in our productions must resonate with them. That's why we love using rap and 'rating' apps.
We don't want to simply fix a problem but rather look at preventative strategies - how we can get to the root of problems. We don't want the next generation to have low self-esteem, self-harm or warped self-awareness and then see them struggle to repair that later as adults. By addressing the identity crisis they face now with social media's effect on their idea of identity or tackling the perception of perfection we are told to have in order to be happy, we can help young people live up to their potential to be all they were uniquely made to be.
Francesca Woods is Pure Creative Arts' UK programme director.