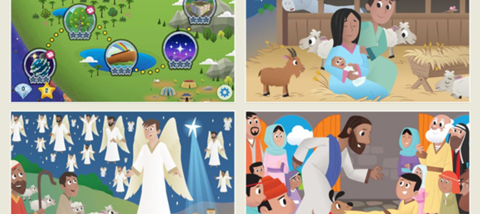 That's an increase of 193 percent compared to the same timeframe last year. The recent surge in growth helped the app reach a new milestone of 50 million installs since its launch in 2013. The app is designed to help young children learn Bible stories through interactive animations and activities.
From January to August this year, kids from around the globe have completed more than 109 million study plans which depict 41 stories of the Bible. This represents a record high number of Bible study plans completed, with over 175 million stories projected for completion by the end of the year.
Parents can also sign into the app with their YouVersion account to create profiles for their children and receive weekly email updates detailing their progress. This weekly wrap-up is customised for each family, showing story highlights for each child who completed Bible stories that week.
Writer of the material used in the app, Bob Hartman commented: "I think the fact that the app allows parents and kids to enjoy the stories together is absolutely critical. Both Psalm 78 and Deuteronomy 6 make it clear that passing on God's story is primarily the responsibility of parents and that future generations depend on it. Research has suggested though that many parents worry that they don't have the time, the knowledge, the ability, or the resources to do that. And that is why it is so important to have something like the Bible App for kids - a resource that is biblically based and that is also a joy to experience. "Playful" is one of the best words I can use to describe it. And "playful" is, on the the whole, the best way to encounter truth. It's like that old Aesop story, where the wind and the sun wager to see who can get the man to remove his coat. The wind blows a storm, and the man wraps himself up more tightly. But when the sun shines, the coat comes off. Playfulness is like the sun. It relaxes us. It welcomes us. It opens us up to let the truth soak in. It's the very best way to learn, and I think it as at the heart of why the Bible App for kids has reached 50 million families.