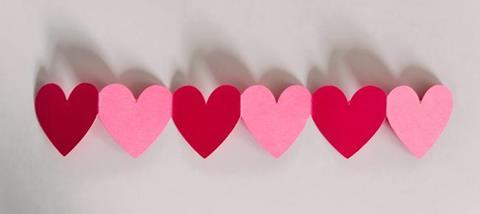 I've been really worried about Britain. I read the newspapers everyday, and whilst famously they like to print bad news rather than good news, it feels like bad things have been of a different order recently.
In my local church, St Andrew's in Archway, we always pray for people we know, for our local community and for the wider world. It has felt very much like this latter group was where our prayers were needed most.
The Britain that people have been talking about in 2019 has been a place of tension, nastiness, bitterness and division. It feels like Brexit has exposed and deepened an unbridgeable chasm in our social fabric where we don't understand and can barely talk to each other anymore.
When she was harassed and accused of being a Nazi by protesters outside parliament last month, Anna Soubry MP said: "This is what Britain has become".

But I don't think this is Britain. I don't think it's who we are and I don't think it's what we're becoming.
My organisation, the Mental Health Collective, has been doing a project called #GreatBritishValentine. It's a random acts of kindness project where you can sign up to send a card with a message of goodwill (not romance!) to someone you don't know, and receive a card yourself.
We organised it in the run up to Valentine's Day with no budget and relying entirely on free tools from the internet and favours from friends. When we started the project we had no more than a dozen followers on Twitter and I didn't know what an Instagram story was.
The response to #GreatBritishValentine has been breath taking. To our total astonishment, over 1,000 people signed up. We have participants in every single county in England, and in nearly two-thirds of the counties in Wales, Scotland and Northern Ireland. There have been children under 1 participating all the way up to people in retirement. We've even had a handful of people taking part from the US (no idea how that happened!).
The story got picked up by the Metro, the I newspaper, BBC Hereford and Worcester, and got a shout out on the Zoe Ball Breakfast Show on Radio 2 and on BBC Five Live. It turns out journalists do like good news after all!
@MHC_UK
I just received this gorgeous card in the post and it really has made my day! Thank you to Rich, Anna, Alice and Jonah, I hope you all are having a great day xx #GreatBritishValentinepic.twitter.com/Tlu5B1Xlcg

— Ciara Brennan (@CiaraBrennan96) February 12, 2019
The cards that people have been sending have been totally jaw dropping. Homemade cards have been criss-crossing the country with blessings, affirmations, suggestions for songs and favourite books, and just simple messages of good wishes and positivity.
Tea bags and coffee sachets have been sent through the post so that the recipient can have a nice brew. Beautiful, poignant, heartfelt letters with words crafted for someone to hold onto when life is at its bleakest. Funny, silly, cheesy cards with puns and dancing pineapples. A handful of confetti, each piece inscribed with love and affirmations. A card with all the different meanings of love from ancient Greece. A card ordered from an online greetings card company by someone who is too unwell to get to the post-box.
@MHC_UK#GreatBritishValentine it came! After a very long journey home last night, my little dose of kindness and girl power cheered me up more than my sender (Kirsty Alice) could have guessed! Spookily a very relevant message inside too thanks @mhc for making possible! pic.twitter.com/CkyEEQy4QM

— Kim Forrester (@kimforrester_UK) February 15, 2019
More than half of the participants for #GreatBritishValentine volunteered to be an 'emergency Valentine's hero', to send an extra card to someone who (for whatever reason) doesn't receive their good wishes.
My phone is alight with kindness. Stunning photos and messages that show, without a shadow of a doubt, that there is an enormous amount of kindness in Britain. That this is a place where people don't just care about their nearest and dearest, we also care about people we don't know. They are messages that I'll hold onto in my own darkest days.
The image that I've kept being reminded of is the one that my church used for it's festive Christmas card this year: "love came down".
When people are struggling with their mental health and feel like they are falling apart they often feel alone. It's easy to feel that nobody cares about you – and sometimes, in our personal lives, we do have times when there's no one we can rely on.
But what #GreatBritishValentine has taught me is that, actually, you aren't on your own. You are in Britain. You are in the world. People do care about you; it's just that you don't know who those people are.
Britain is a lot of different things, and receiving a nice card from a stranger is no magic wand. It doesn't make bad things go away, and it probably only makes you feel better for a little while.
But it does show that, actually, Britain is a place where there is a lot of kindness. And that's a good place to be.