Charles Merritt gives a thumbs up to taking your family on a fast train to Disneyland Paris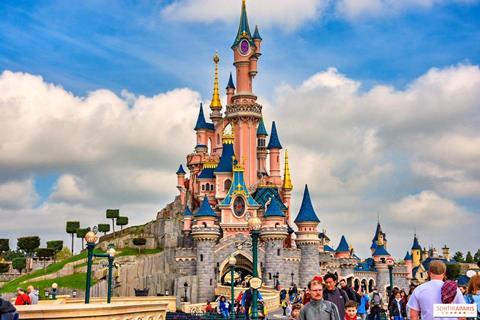 Forgive me. I realise that we have now entered the New Year and, for many of us, Christmas feels like a lifetime ago. However, as I write this, we are technically still within the 12 Days of Christmas and I was fortunate enough to join my mum, dad and their foster child on their trip to Disneyland Paris the week before Christmas. Full-disclosure, I am a HUGE Disney fan and so I was very excited about the chance to wander down Main Street again and join Mickey and pals for festive fun.
What I liked:
1. Family Fun
Walt Disney came up with the concept of Disneyland after visiting a fairground and discovering the only ride he could join his children on was the carrousel. Disneyland is designed for children (and adults) of all ages to enjoy together.
Whether you're a thrill-seeker and want to ride the fastest rollercoaster you can or whether you prefer a gentle ride that takes you through a classic Disney story, there are so many rides to choose from that mean everyone is entertained.
Be warned though, some rides have longer queue times than others…
My favourite rides on this visit were:
Web Slingers: A Spider-Man Adventure – An incredible shooter ride in which you wave your arms around, as though you're Spider-man himself, shooting webs at malfunctioning spider-bots. The technology in this ride was mind-blowing.
Ratatouille: Join Remy as you are shrunk down to the size of a rat and run around the kitchen of the esteemed Gusteau's restaurant through fridges, ovens and the walls.
Big Thunder Mountain: This is my all-time favourite ride. A classic runaway train but with spectacular effects and storytelling thrown in.
2. Shows and Parades
The parades are always enjoyable and a great chance to see a wide variety of characters. The shows too provided a lot of entertainment, in particular Mickey and the Magician which involved lots of song and dance numbers plus some very impressive illusions.
The fireworks over the castle are always memorable and the projections onto the castle make for some incredible visuals.
What I didn't like:
1. Disabled access
We were in a unique position having a disabled member of the family. Although there was disabled parking, it was still a trek from the car park to the main entrance every day.
Disney do give out disabled passes, if you have registered before your trip that is, which give you premier access to queues – often cutting out the long wait times.
However, because we had said we'd prefer to stay in the wheelchair, they wouldn't allow us to transfer into any rides without a specially made wheelchair accessible vehicle. This meant that there were only four rides we could do as a family. This was particularly frustrating as there wasn't much to do if the disabled member of our family was waiting for us to go on a ride.
We did get around it by going in early one morning and completing seven rides in 2 ½ hours whilst the disabled member of our family stayed at our accommodation.
But given Walt Disney's original vision of a holiday for the whole family, it was disappointing that we were prevented from being able to enjoy much of the experience together.
2. Cost
It's fair to say that Disneyland is expensive. The tickets and hotel alone would tell you that. But unfortunately, the spending doesn't stop there. If you want to save a space in a queue or a seat for a show it will cost you extra. The merchandise is also ridiculously expensive. Plus the food will also cost you an arm and a leg.
What about faith?
The thing I was most struck by whilst visiting Disneyland at Christmas was that carols were being played in the parks. Sure, they often had no lyrics and were purely instrumental but, at the end of the fireworks, 'Joy to the world, the Lord has come' was the big finale. There was nativity scene and most of the decorations were about presents and snowflakes but there was, deep, deep, deep beneath the surface an acknowledgement about why we celebrate Christmas.
It's easy to be cynical and throw criticism on the self-empowerment messages that come from Disney films – 'find the magic within you' was repeated a few times in one of the shows – but our foster child needed to hear that. Coming from a culture where women are often assigned to the kitchen and expected to serve men, I think it was inevitable that Elsa was the character she was most excited to see. Elsa has powers and is free to make her own choices – for some girls, that's something they desperately need to see and hear.
Overall
We had a great time. Our foster child will never forget meeting the characters and screaming her head off on the rides. In fact, it's all she's talked about since we've been back!
Sure, there is something to be said for the commercialistic nature of the parks, the inequality in experience for those who aren't able to afford all the extras and the disabled experience leading to a lot of frustration. However, it was wonderful to be able to do something together as a whole family, to share in precious memories and to have the opportunity to all be children again with the same wide-eyed sense of awe and wonder that can so easily be lost in our busy lives.

Charles works as a Creative Content Developer for Youthscape. He also studied screen writing at university and regularly takes part in improvised comedy.
View full Profile