Victoria Beech discovered that a trip to the hairdresser led to some useful lessons on helping your children grow spiritually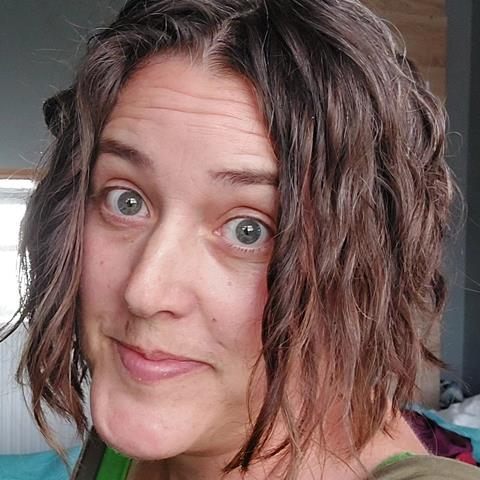 I recently discovered I have curly hair. Having brushed and blow dried my hair for 30+ years, I knew that if I left it wet it went frizzy. But after a drastic cut from mid-back length to a short bob, out popped curls!
There started a project to discover how to 'care' for my curls. Numerous reels, web posts and YouTube videos later, my brain was overwhelmed with the mass of complex and sometimes conflicting information and advice!
Don't ever brush your hair.
Don't use oils or creams.
Use this cream.
Use this shampoo.
Don't use shampoo with silicone in.
Buy this system of products (cue remortgage price tag!).
Do a '0 wash'.
Clarify your hair. (Er, what?!)
Use a cotton t-shirt to dry your hair.
Put in gel while it's wet.
Use mousse.
Use gel and then mousse.
Don't use mousse AND gel.
Use this conditioner.
Don't use leave in conditioner.
Buy three shampoos and use them in rotation.
The list went on and on, and I kept searching! (I have ADHD so once I start, it's very hard to stop!)
I wrote notes, collected product suggestions and saved videos of 'plopping' and how to make hair gel from flax seeds!
Then I had to work out what I would do. In reality I couldn't do all the things. I couldn't follow all the advice or afford to buy an £120 hair product set! So, what I did was choose something small to get me started: I chose drying my hair in an old cotton t-shirt. This cost me nothing, and I had the perfect specimen in my draw. I moved it into the bathroom and used it after my next hair wash. It didn't make a sudden change, but I could see my curls were less 'roughed up' after drying in the towel.
Next, I bought a new shampoo and conditioner, not the crazy expensive ones, but ones I got reduced at TKMaxx. (No silicons.) I put those in the bathroom too, and sure enough, after my next hair wash, my curls were not brilliant but a little more defined.
Then, because I'm a creative person and it seemed fun, I spent 20 minutes one day making hair gel by boiling linseeds in water and squeezing them through a pair of tights! Actually, it makes really quite decent hair gel, loads of it, and really cheap! (If you live near me give me a pot I'll give you some!).
I'm planning to continue using these three new things and see how my hair responds over the next month or two, then maybe I'll add something else, perhaps a mousse or a 'clarifying shampoo'.
I think this whole approach works well for faith at home. If you're feeling overwhelmed by the amount of stuff you've been told you could/should do to help your family grow in faith, why not take my 'curly hair' approach:
1 Start small
Begin with something small, simple and easy to do, something which involves no money spent, a little change or a small addition to something you already do (like me using the cotton t-shirt instead of a towel).
Here's some ideas:
· If you eat meals together, say a one-line prayer of thanks before you begin. Or if you already do this, research a new grace to use
· If you spend time in the car together and like listening to music, add into your playlist some of your favourite worship songs
· If you're more of a story family, reading books together or listening to audio books, find a good Christian story to listen to (we love the Wingfeathers which are available on Audible)
· Say a one-line prayer when you're setting out of your house, walking or in the car, asking God to be with you, for you to be a blessing to the people you meet.
2 Add things gradually
I'm very good at deciding I'm going to do a Thing, and hyper-focusing on it and making a gazillion changes in one go. What I've found is that slow and steady wins the race. That is to say, adding one new thing, one habit, one different type of book, one new activity and repeating it for a while before adding another is the best way to build up a life of good things. Doing everything at once just leads to burn out, and when we're wanting to develop a life of faith not just a childhood, we have time to slowly add things to our family repertoire as the months and years progress.
For example, this Christmas you might want to do something to intentionally celebrate Jesus at home together. I have 50 ideas of how you could do this, but I would recommend you choose one, or three at the very most! One new brilliant thing this Christmas which your family enjoy and find meaningful and which you repeat next year has the potential to give you a Jesus-centred Christmas tradition for the rest of your and maybe even their lives!
3 Do things which work for your family
This is probably the most commonly repeated advice I read about curly hair. People have all sorts of recommendations of products which worked on their hair, but some people find things work for them which don't work for other people. To assume that what works for a family you know (and maybe admire for the way they 'do faith') will work for your family is flawed. What works for them might work for your family, definitely take recommendations and try things out, but in the end, it has to work for your unique family. Instead of being left with the faith at home equivalent of a bathroom full of half used products, try out things and reflect using questions such as:
· Did this work for us?
· How might we use it slightly differently to make it work better for us?
· Is it time to try something different?
Remember, you can reflect on this as a family too – often I find my children come up with the best creative solutions!
I hope this helps you on your journey with faith at home in your family, and if you have any tips (or partly used curly hair products!) you can pass on to me, you can find me at victoria@godventure.co.uk

Victoria Beech loves coffee, drawing, painting, knitting, chatting with friends and walking in the woods. Preferably all at the same time. She home educates her daughters (currently age 10 and 12) while also producing inspiring resources you can see at GodVenture.
View full Profile