Amanda Porter believes Marcus' story can be an inspiration to many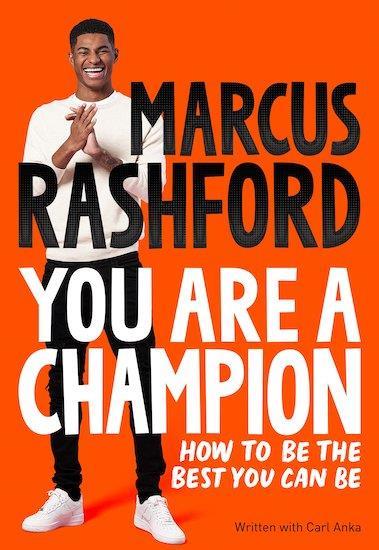 Dream Big. Practice Like a Champion. Find Your Team. The chapter titles in Marcus Rashford's new book, You Are A Champion, may at first glance seem a bit vague, cliche or perhaps just common sense, but this quick and easy read is a power punch of an encourager, meant to help inspire and equip young people to become the best they can be by learning how to champion themselves, champion others and champion a cause.
In his first book (He's got another coming out soon) Rashford honestly shares his journey from childhood as simply a lad who loved kicking a football around Wythenshawe to playing professionally for Manchester United and the England national team. He also discusses his entrée into working to end child food poverty, which he himself experienced firsthand as a child. His point - if he can achieve his dreams, anyone can and here's how!
In each chapter, Rashford uses examples of his own experiences to demonstrate how he's approached challenges and failures (usually about football, but not always) and provides practical advice with universal application for those of us who don't play (or even like - sorry!) football. At the end of every chapter (This is the best bit!) are interactive exercises to help young people take action and do something to move towards fulfilling their goals. In addition, and perhaps because Rashford himself did not enjoy reading as a young person, graphics appear on most pages and text in large print is scattered throughout, both of which might contribute to feeling a little like a superhero for how quickly you fly through it.
It's clear that Rashford, at just 24 years old, has gleaned significant wisdom from those around him, certainly including his coaches and most especially his own personal heroes - his nana and his mum. He also notes the powerful influence of his siblings, his friendship group and the culture of the community where he grew up that have helped him get to where he is now.
The one thing that might put some young people off, however, is the appearance of the book. As much as we're told not to judge a book by its cover, don't we all? Its target audience is clearly teenage boys/footballers, which is not a problem, but let me tell you, this book is for everyone! As a young person I never would have picked this book up, but honestly, it's the one book I wish I had had back then.
It's warm, it's moving, it's inspirational. It's a book I plan to keep on my own shelf and come back to whenever I need a motivational pick-me-up or a practical idea of how to work through a problem.
If you have young people in your life, buy it for them, but also read it for yourself. Be inspired to become your own champion, be encouraged to champion those around you, and be equipped to champion whatever cause is dearest to your own heart.
Star rating: 4 out of 5 stars

Amanda Porter serves with the Pais Movement, an international Christian missions organisation that runs a free mission year for young adults ages 18-30, training them in youth and schools work to be positive Christian role models for young people in churches and schools. Amanda loves films, photography and traveling. She currently lives in Belfast.
View full Profile